Twitter on Tuesday appeared to suspend several accounts dedicated to 2020 election audits, including a prominent one that made announcements regarding the audit of Maricopa County.
When trying to access the Maricopa County Audit, the Audit War Room, and various "war room" accounts dedicated to Wisconsin, Nevada, Pennsylvania, Michigan, and Georgia, Twitter wrote: "Account suspended." The War Room account had more than 40,000 followers and the Maricopa County Audit account had nearly 100,000 followers.
The accounts then displayed Twitter's boilerplate message that "Twitter suspends accounts that violate the Twitter Rules."
The Maricopa County Audit account, namely, would provide updates of the Arizona Senate-authorized audit of Maricopa County's 2020 ballots and election equipment.
The Epoch Times has reached out to the San Francisco-based social media firm for comment, asking why the audit accounts were suspended.
The move is sure to fuel more Republican criticism against Twitter and other Big Tech firms over concerns that they're working to censor conservative voices. Former President Donald Trump weeks ago filed a class-action lawsuit against Facebook, Google-owned YouTube, and Twitter for banning his social media accounts.
And Twitter's actions against the audit accounts come after Ken Bennett, the liaison and a former Republican Arizona secretary of state, stated Monday he was blocked from entering the audit several days ago. Bennett said that he shared information sourced from the audit with outside parties who were critical of the review.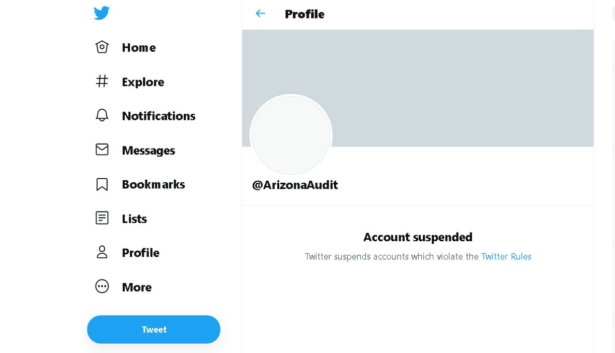 "I shared some box counts of how many ballots were in each box and that got leaked to the press," Bennett told radio host James Harris. "That's how I got barred from the audit."
Bennett added that he spoke with Republican Senate President Karen Fann and apologized to her and the Senate for sharing data with a group of election analysts.
Throughout the process, which was authorized following a court-approved subpoena of Maricopa County, Democrats and Maricopa's executives have denigrated the audit as partisan and add it's designed to sow discord among voters. Republicans, however, argued the audit is necessary to get to the bottom of whether there was fraud in Maricopa County, while adding that it is needed to bolster voters' confidence in elections.
This week, Fann and Arizona Senate Judiciary Chairman Warren Petersen ordered Maricopa County's Board of Supervisors to turn over ballot envelopes or ballot envelope images, voter records, and routers or router images in a new subpoena. The Board of Supervisors was also told to appear at the Arizona State Capitol for a hearing slated for Aug. 2.
Zachary Stieber contributed to this report.
From The Epoch Times