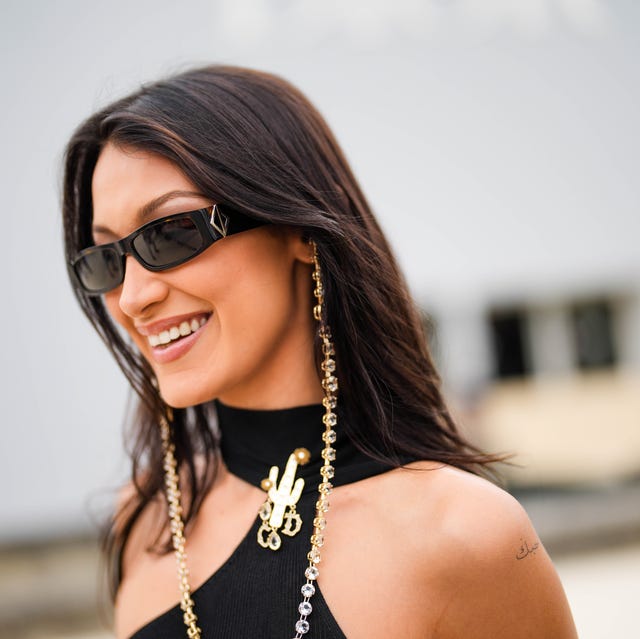 Edward BerthelotGetty Images
I think of sales like first marriages with prenups: Dip your toe into new experiences without emptying your bank account so that in the future, you'll know exactly where and who you want to commit to. Don't just run into something with no thought process. Invest time and energy! Buy minis instead of the entire bottle! Spend half the money, and get twice the return. And if you do fall in love? Well, now you know. You've always been curious about certain brands but don't want to shell out tons of money on a product that might not work for you? Buy a set of travel-friendly minis before taking the plunge.
This is all to say that Nordstrom's Anniversary Sale is right around the corner, and we're finally getting a glimpse into what products we want to get. Don't spend the day of the sale mindlessly scrolling only to fall in love with something that's already sold out. Just like in your first marriage, come prepared. Have a list of bookmarked items, so you can click "purchase" before anyone else does. Below, find 38 of the best beauty items that will be on sale very soon, so you can have a battle strategy when the time comes.
1
Do Son Eau De Toilette & Hair Mist Set ($125 Value)
diptyque
nordstrom.com
$90.00
If you're as obsessed with diptyque scents as I am, this perfume and hair mist duo will let you soak in the delicious bestselling Do Son perfume from head to toe.
2
Lash Enhancing Serum Duo ($190 Value)
NEULASH
nordstrom.com
$95.00
Dying for longer lashes? This serum actually works, and allows you go grow fuller, more dramatic lashes quickly and effectively.
3
Setting Spray & Magic Cream Set ($113 Value)
Charlotte Tilbury
nordstrom.com
$75.00
We all know and love Charlotte Tilbury makeup, but their skincare is just as gorgeous, and preps the skin for a luminous glow. With a serum, finishing spray, and a celebrity-favorite moisturizer, you'll be photo-ready all day long.
4
Bronzer, Luminizer & Lip Balm Set ($86 Value)
RMS Beauty
nordstrom.com
$58.00
For the clean beauty lover, this set from RMS beauty includes everything you need for a natural, healthy glow.
5
Travel Size Queen Of Hungary Mist Set ($148 Value)
Omorovicza
nordstrom.com
$83.00
For the skincare obsessed, this Hungarian-based company has created some of the most effective and luxe products on the market. This set of minis comes in a gorgeous travel bag, and you'll definitely be back to buy the full-sized versions soon.
6
Poshpeel Pedi Cure Set ($80 Value)
Patchology
nordstrom.com
$50.00
If you love it when your feet shed skin like a snake, grab this set of foot peel booties for the best pedicure of your life. 
7
Skin Caviar Luxury Ritual Set ($1,624 Value)
La Prairie
nordstrom.com
$1,435.00
If you've always wanted to try La Prairie skincare, this is your chance to buy a set for way less than it would be not on sale. Not only will this make your skin look the best its ever been, but you'll feel fancier than ever.
8
Travel Size Scented Candle Set ($82 Value)
diptyque
nordstrom.com
$60.00
If you're thinking, "Well, I'll keep one of this mini candles and give the others to my friends!" just stop lying to yourself. Instead, put one of them in every room in your house.
9
RIKI 10X Skinny Lighted Mirror
Riki Loves Riki
nordstrom.com
$210.00
Make sure your makeup is perfectly blended–and maybe extract a pore or two–with this magnifying and lighting mirror. 
10
Addict Lip Glow Lip Balm & Maximizer Plumping Lip Gloss Set ($100 Value)
Dior
nordstrom.com
$70.00
This trip of Dior makeup products will give you juicy lips and big fluttery lashes so you basically turn into a Disney princess.
11
Full Size Better Than Sex Volumizing Mascara & Killer Liner Set ($46 Value)
Too Faced
nordstrom.com
$32.00
The name of this mascara might terrorize my grandma, but hey, it's not wrong. Give yourself a nice smokey eye and the most dramatic lashes of your life with kit.
12
All Nighter Long-Lasting Makeup Setting Spray Set ($81 Value)
Urban Decay
nordstrom.com
$42.00
If you're addicted to spritzing yourself with this setting spray, snag a couple of extra bottles so you don't have to run to the beauty store in a panic next time you run low.
13
Healthy Hair Wonders Set ($75 Value)
Briogeo
nordstrom.com
$49.00
For perfect spirals, this set of hair products will hydrate, add bounce and shine, and make you look like a shampoo model.
14
Full Size Pillow Talk Instant Eyeshadow Palette Set ($203 Value)
Charlotte Tilbury
nordstrom.com
$135.00
Charlotte Tilbury has a cult following of celebrities, which should tell you everything you need to know. Snag this set of products you'll need for that old school Hollywood glow
15
Rapid Dry Lisse Hair Wrap Towel Duo ($60 Value)
AQUIS
nordstrom.com
$39.00
If your hair is fragile and not happy being wrapped up with your 10-year-old towels, these are gentle alternatives that also make you look chic right out of the shower. Plus, it makes your hair dry faster which is the highest praise I can give.
16
Rose Petal-Soft Lip Cream Set ($37 Value)
Fresh
nordstrom.com
$25.00
If your 2021 goal is to be kissed, make sure those lips are prepped and ready with this set of lip balms and creams.
17
Treatment Set ($66 Value)
MOROCCANOIL
nordstrom.com
$44.00
For hair that's dying of thirst, give them a glass of water in the form of hydrating hair oils and a luxe mask that will reverse all the damaging processes you've put your head through. 
18
Mini Facial Toning Device
NUFACE
nordstrom.com
$209.00
If you work out your body, give your face the same treatment. After just a few uses, watch your cheekbones and jawline emerge from your face like they just stopped hibernating.
19
Pleasure Trip Cheek Palette ($87 Value)
NARS
nordstrom.com
$45.00
For a post-smooch glow, this palette has a bronzing powder, highlight and blush that you can throw in your purse for on-the-go touch-ups.
20
Hypnôse Drama Mascara Set ($98 Value)
Lancôme
nordstrom.com
$61.00
This mascara and primer combo adds so much length that a stiff wind might lift you off your feet. Plus, the set comes with a makeup remover that'll make cleansing your face a breeze.
21
Bond Maintenance Hair Care Set ($126 Value)
Olaplex
nordstrom.com
$84.00
Look, you know and I both know that your flat iron shouldn't be cranked up to 45o degrees. But we also both know that you're not going to stop. So instead grab these bottles from Olaplex to fix those crispy, straw-like strands.
22
Sunset Hair Tie Set ($65 Value)
slip
nordstrom.com
$45.00
You know that you run out of hair ties every other day, so pick up some fancier silk ones that are too nice to lose. Next time your friend asks if they can borrow your hair tie for a quick sec? Immediately lie and say you don't have any.
23
Travel SIze The Moisturizing Soft Cream Set ($182 Value)
La Mer
nordstrom.com
$95.00
You know you've always wanted to try La Mer, so pick up an entire set at a dramatically reduced price. As you apply the products, you'll feel fancier than you ever been in your life.
24
Ambient Lighting Essentials Palette
HOURGLASS
nordstrom.com
$64.00
Hourglass has some of the best face products in the biz, so pick up this trio palette to transform your skin into a luminous, glowing goddess.
25
Black Rose Skin Infusion Discovery Set ($268 Value)
Sisley Paris
nordstrom.com
$155.00
These products from Sisley are all stellar, so the fact that they are coming in a set is all I could ever want. Smother your face in the goodness. 
26
Late Bloomer Votive Candle Set ($80 Value)
Boy Smells
nordstrom.com
$56.00
The Internet is obsessed with Boy Smells candles, but odds are you couldn't decide which one to get. So get them all! They all smell amazing, but if there's one in the batch you're not wild about, give it to your mom and she'll definitely love it.
27
Resurfacing Mask Mix & Mask Set ($126 Value)
Tata Harper Skincare
nordstrom.com
$78.00
Masking should be an Olympic sport, but in order to get the gold you need the right equipment. In this case, that means a trio of the most effective, best-loved face masks in the game.
28
Eau de Parfum Set (USD $167 Value)
Chloé
nordstrom.com
$145.00
If you want to smell like a French girl who picnics in fancy gardens, grab this trio of fragrances to make your Parisian dreams come true.
29
Lipstick & Lipglass Set ($108 Value)
M.A.C.
nordstrom.com
$62.00
We can be mask-free for the summer (if you get vaccinated like you should), so let your lips taste fresh air and some lipstick again.
30
Magic Duo Full Size Gold Lust Dry Shampoo & Dry Texturizing Spray Set ($96 Value)
Oribe
nordstrom.com
$64.00
For waves that are beachy and cool, you'll need this dry shampoo and texturizing spray duo. Lie to your friends and say that your hair dried that way when everyone knows that you spend 30 minutes styling.
31
Bloom Eau de Parfum & Sheer Lipstick Set ($172 Value)
Gucci
nordstrom.com
$98.00
For an instant luxe upgrade, spritz on some Gucci perfume and throw on some beautifully packaged lipstick. Harry Styles sold separately, sadly.
32
Fragrance Discovery Set
Le Labo
nordstrom.com
$65.00
If you can't decide which Le Labo perfume to invest in, grab this discovery kit of their bestsellers to figure it out. That way you don't end up with an expensive full-size perfume that you never end up wearing.
33
Cognac Rose Eye Color Quad Set
Tom Ford
nordstrom.com
$88.00
Just because you'll never be as chic as Tom Ford doesn't mean you shouldn't try. With this eyeshadow quad and two lipsticks, you can create a range of makeup looks that will trick people into thinking you're put together.
34
Advanced Night Repair Eye Cream Set ($132 Value)
Estée Lauder
nordstrom.com
$66.00
Here's a scam I'm mad about: Why are eye creams packaged in such tiny bottles? Here's a solution I'm not mad at: Getting three eye creams for the same price that will last you three times as long.
35
Perfect Nude Slim Glow Matte Lipstick Set ($78 Value)
Yves Saint Laurent
nordstrom.com
$50.00
This slim lipsticks are perfectly proportioned for the tiny bag trend I keep seeing all over my Instagram. You can even slip them into the pockets of your skinny jeans because that's how travel-friendly they are.
36
Super Anti-Aging Serum Skin Care Set ($455 Value)
Dr. Barbara Sturm
nordstrom.com
$275.00
Just because aging is hard, doesn't mean it can't also be fun. Dr. Barbara Sturm makes skincare that all of your favorite celebrities are obsessed with, which means this is your change to actually get model skin.
37
Superscreen Daily Moisturizer SPF 40 Sunscreen Set ($58 Value)
Supergoop!
nordstrom.com
$39.00
For the summer, do your future self a favor by investing in a ton of SPF. You might not like it now, but you'll definitely see the fun side when your friends look 60 when you still look 25.
38
Bright Crystal Eau de Toilette Set (USD $155 Value)
Versace
nordstrom.com
$100.00
Maybe your girlfriends bailed on that trip to Miami, but you can still smell like the Versace Mansion from the comfort of your (one bedroom) home.
This content is created and maintained by a third party, and imported onto this page to help users provide their email addresses. You may be able to find more information about this and similar content at piano.io