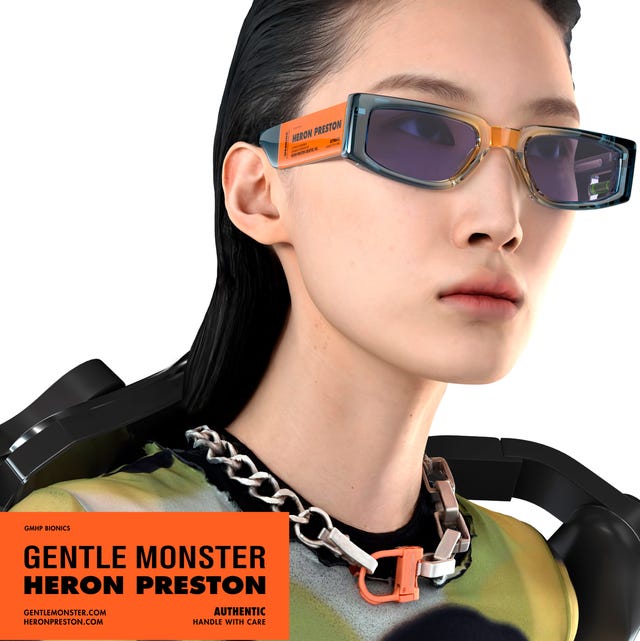 Courtesy of Heron Preston
Summer is in full swing, and as we ease into what socializing looks like in a post-pandemic world, there are no shortages of fashion launches, collaborations, and campaigns to help inspire us to conquer those scorching 95-degree days. Stay tuned throughout the month for updates on the hottest fashion news.
1
Heron Preston Debuts Gentle Monster Sunglasses Collaboration
Who: Heron Preston
What: Collaboration with Gentle Monster
Where: Available July 29 at Gentle Monster and Heron Preston's on and offline stores, farfetch.com, and select shops around the globe
Why: Designer Heron Preston, known for his artful take on streetwear, has joined forces with South Korean eyewear brand Gentle Monster to create three pairs of sunglasses. The geometric lenses are available in black, clear, and navy, and pair perfectly with both Preston's workwear aesthetic and Gentle Monster's keen eye for unique-looking frames. Specifically, the "spirit level" motif, central to Preston's brand DNA, takes on a new life on the temples. Celebrate a triumphant return to normal in style with a futuristic take on eyewear.
VIEW MORE
2
Ganni Opens Williamsburg Store
Who: Ganni
What: Williamsburg store opening
Where: 113 N. 7th Street, Brooklyn, NY
Why: Danish clothing brand and purveyor of Scandi-chic wares Ganni is putting down roots in Brooklyn's Williamsburg neighborhood, marking its second store in New York and sixth in the US. The store takes design cues from the SoHo location, featuring primary colors with artfully merchandised ready-to-wear and accessories; upcycled and recycled furniture is also showcased throughout. To properly honor the new space, Ganni tapped Brooklyn-based artist Didi Rojas to create both a mural and a sculpture of Ganni's popular lug sole boots. Get into the Danish groove with a brand that's bringing a slice of Copenhagen stateside, emphasizing casual and feminine silhouettes while also acknowledging its environmental and social responsibility.
VIEW MORE
3
Schiaparelli Releases Dove Brooch Benefitting Lady Gaga's Born This Way Foundation
Who: Schiaparelli
What: Dove brooch benefitting Born This Way Foundation
Where: Available from Schiaparelli, Bergdorf Goodman, and Dover Street Market
Why: French fashion house Schiaparelli has a long-standing relationship with the dove, ever since designer Elsa escaped France during WWII wearing a dove pin as she arrived in New York. This universal symbol of peace and hope was rendered in a stunning hammered gold brooch for Lady Gaga's custom Schiaparelli outfit worn to sing at this year's presidential inauguration. Schiaparelli is releasing the brooch for purchase, with all proceeds going to Gaga's iconic Born This Way Foundation, an organization that works to positively impact the lives and mental health of youth worldwide. The brooch comes in three different sizes and stands as a symbol of hope and optimism, pairing perfectly with Born This Way's commitment to freedom and love.
SHOP NOW
4
Prada Treks Into High Summer With Outdoor Mountain Pop-up
Who: Prada
What: Outdoor Mountain collection and pop-up stores
Where: Pop-ups at Beverly Hills and Broadway NYC stores til August 9, available online at Prada.com
Why: Prada is adventuring into the next outdoor environment, this time honoring the sporty leisure of mountainside dressing. Technical nylon jackets and pants take on muted colors inspired by mountain range colors and patterns. Tartan adorns sleeping bags, totes, and Re-Nylon sport bras to provide elevated athleisure for the slopes and back. Prada Outdoor Mountain will hit the slopes in New York and Beverly Hills today in stores until mid-August.
SHOP NOW
5
Ray-Ban Launches 'True Blue' Limited Edition Capsule
Who: Ray-Ban
What: True Blue Collection
Where: Available on Ray-Ban.com from $161
Why: Ray-Ban is releasing six of their most iconic shapes including the Wayfarer and Aviator in the perfect ocean blue. As per every Ray-Ban sunglass style, each pair is scratch-resistant to ensure the cool blue color keeps its shine all summer long. Even if you can't make it to Mykonos, you can have a piece of the irresistible azure water in your daily wardrobe. Styles are available now on Ray-Ban.com and wherever Ray-Bans are sold.
SHOP NOW
6
Victoria's Secret Taps Madison Beer For Tease Crème Cloud Fragrance Campaign
Who: Victoria's Secret
What: Tease Crème Cloud fragrance and campaign starring Madison Beer
Where: Available on victoriassecret.com and in VS stores worldwide
Why: Nothing says summer like a fragrance that's lighter than air, and Victoria's Secret has its head in the clouds with the debut of Tease Crème Cloud. The dreamy scent has top notes of vanilla meringue with base and finishing notes of sandalwood and amber, making it floral, warm, and lush all in one, just like a perfect summer day. For the campaign, Mario Sorrenti photographed singer Madison Beer, looking angelic in white. ELLE.com's exclusive BTS video shows how the images came to life, with Sorrenti's lens on Beer under the sun in the California desert.
SHOP NOW
7
Longchamp Debuts New Le Pliage Campaign and Le Pliage Green
Who: Longchamp
What: Le Pliage campaign and introduction of Le Pliage Green
Where: Available on longchamp.com and in Longchamp stores and retailers worldwide
Why: Longchamp's Le Pliage bag has achieved a rare feat in the handbag category: household status. The iconic woven canvas tote is presented in the brand's latest tongue-in-cheek campaign, along with the new Le Pliage Green style. The name highlights the continuation of Longchamp's commitment to sustainable production, with all Le Pliage Green bags made from recycled nylon. Longchamp is committed to producing the entire Le Pliage line with this material by 2022. Same bag, better for the environment. What's not to love?
SHOP NOW
8
Acne Studios Embraces Quirkiness with Face Collection Drop 2
Who: Acne Studios
What: Fall/Winter 2021 Face collection Drop 2
Where: Available on acnestudios.com and in all Acne stores worldwide
Why: Acne Studios releases its second drop of the Fall/Winter 2021 Face collection, entitled "Bizarro World Tour" & "Pop." The clothes embody the casual streetwear of the early aughts with the classic Acne twist—bright colors, slouchy silhouettes, and unexpected fabric choices that bring new life to puffy nylon outerwear and workwear. Acne also teamed up with Danish ceramicist Betina Jørgensen—known as Bettunika—to create off-kilter teacups and saucers to embrace the imperfect. The cherry on top of this delicious drop is Acne's continued commitment to eco-conscious fashion, with 90 percent of the collection made using sustainably sourced materials.
SHOP NOW
9
Chanel Turns Back Time With Electro Collection
Who: Chanel
What: Electro timepiece collection
Where: Available in Chanel boutiques and select retailers worldwide
Why: Chanel leans into the rave and techno culture of the '90s with its latest watch collection. Artists like Daft Punk and the Chemical Brothers created entire atmospheres with their sensory performances, and Chanel's watches wholly embrace this world of deep contrasts and striking color. Colors bounce to light in stark contrast to the black and white faces chosen for each watch. Classics like the J12 and Première are reimagined in technicolor hues, transporting us back to a place in time that celebrated music, dance, and sound (and, for die-hard Chanel fans, harkens back to the late Karl Lagerfeld's data-themed Chanel Spring-Summer 2017 show).
VIEW MORE
10
Karl Lagerfeld Debuts Collaboration with Kenneth Ize
Who: Karl Lagerfeld and Kenneth Ize
What: Capsule collection
Where: Available on farfetch.com, karl.com, brownsfashion.com, and in Karl Lagerfeld's Paris and London stores
Why: Style advisor and French icon Carine Roitfeld tapped Nigerian designer Kenneth Ize to create a capsule collection with Karl Lagerfeld. All fabrics were sourced from Nigeria and each style is infused with Ize's keen eye for both European and Nigerian silhouettes. The casual yet refined collection features tailored separates, sharp tops and pants, and Ize's signature patterns that pop and inspire joy instantaneously. An added bonus? The primary-colored glass bead bracelets that immediately dress up any look. Prices range from $115 to $825.
SHOP NOW
11
Wolford Taps Amina Muaddi for Exclusive Capsule
Who: Wolford and Amina Muaddi
What: Limited-edition capsule collection
Where: Available on wolfordshop.com and in select Wolford stores and worldwide retailers.
Why: Legendary European shapewear and hosiery brand Wolford has tapped the coolest shoe designer in the game, Amina Muaddi, for an exclusive capsule collection. Wolford emphasizes the femininity and curvature of the female shape, and Amina Muaddi felt she was connected to their "brand DNA, incredible craftsmanship, and commitment to excellence." The fruition of their endeavor takes shape in crystal embroidered tights, leggings, and new bodysuits and dresses—even a cat suit with stirrups. The highlight? The slim-fit hand-embellished bodysuit, further dramatized by the mandarin color. The sleek and seamless collection ensures you'll be snatched and sparkling, from your neck to your toes.
SHOP NOW
12
Louis Vuitton Launches LV Squad and LV Sunset Shoes
Who: Louis Vuitton
What: LV Squad and LV Sunset shoe styles
Where: Available on louisvuitton.com and in all Louis Vuitton stores worldwide.
Why: For Pre-Fall 2021, Louis Vuitton creative director Nicolas Ghesquière has created two new shoes that embody the casual energy of the collection. The LV Squad sneaker features a rubber sole and cotton canvas high-top adorned with the new signature LV rubber tag, giving a utilitarian touch to the classic style. The LV Sunset is a mule with a rubber sole, which comes in a variety of punchy colors and offers maximum comfort. The velcro strap and oversized feel make this the perfect choice for the "slip on and go" type of mornings. Friend of the house Emma Chamberlain and teen superstar Charli D'Amelio sport the new pairs in the Gen Z-friendly campaign.
SHOP NOW
13
Goop Launches Activewear with Puma
Who: Goop and Puma
What: Limited-edition workout apparel
Where: Exclusively on goop.com, puma.com, and at Goop's store in Los Angeles's Brentwood Country Mart
Why: Fans of the cult lifestyle brand will jump (or run, or leap) for joy at its latest collaboration with Puma. The 10-piece capsule features clothes crafted with technological fabrics and sleek, feminine silhouettes that don't compromise on style. These pieces can easily go from the yoga mat to the coffee shop without missing a beat, thanks to Goop's keen eye for fashion. Highlights include the windbreaker jumpsuit (pictured here) and a sleek stainless-steel water bottle. Be sure to grab a piece from this timeless update to your workout wardrobe. It's a no-brainer.
SHOP NOW
14
Emilia Wickstead Collaborates With Emporio Sirenuse on Swimwear Line
Who: Emilia Wickstead and Emporio Sirenuse
What: Limited-edition swimwear capsule
Where: Online exclusively at emporiosirenuse.com and emiliawickstead.com
Why: London-based designer Emilia Wickstead and Amalfi Coast-based resortwear brand Emporio Sirenuse have teamed up to create a limited-edition swimwear capsule. Wickstead is known for her ladylike designs with brilliant patterns and timeless silhouettes, while Emporio Sirenuse draws deep inspiration from the picturesque grounds of the legendary Le Sirenuse hotel in Positano, Italy. The combined result? A swimwear line that celebrates femininity and the stunning Amalfi Coast (think: striped beach umbrellas, fragrant lemon trees, and rich red rooftops). Fans of either brand will gravitate towards the striped caftans and head scarves, and any beachgoer will find comfort in the high-waisted swim briefs and casual, colorful pool slides. Prices range from $258 to $947.
SHOP NOW
This content is created and maintained by a third party, and imported onto this page to help users provide their email addresses. You may be able to find more information about this and similar content at piano.io