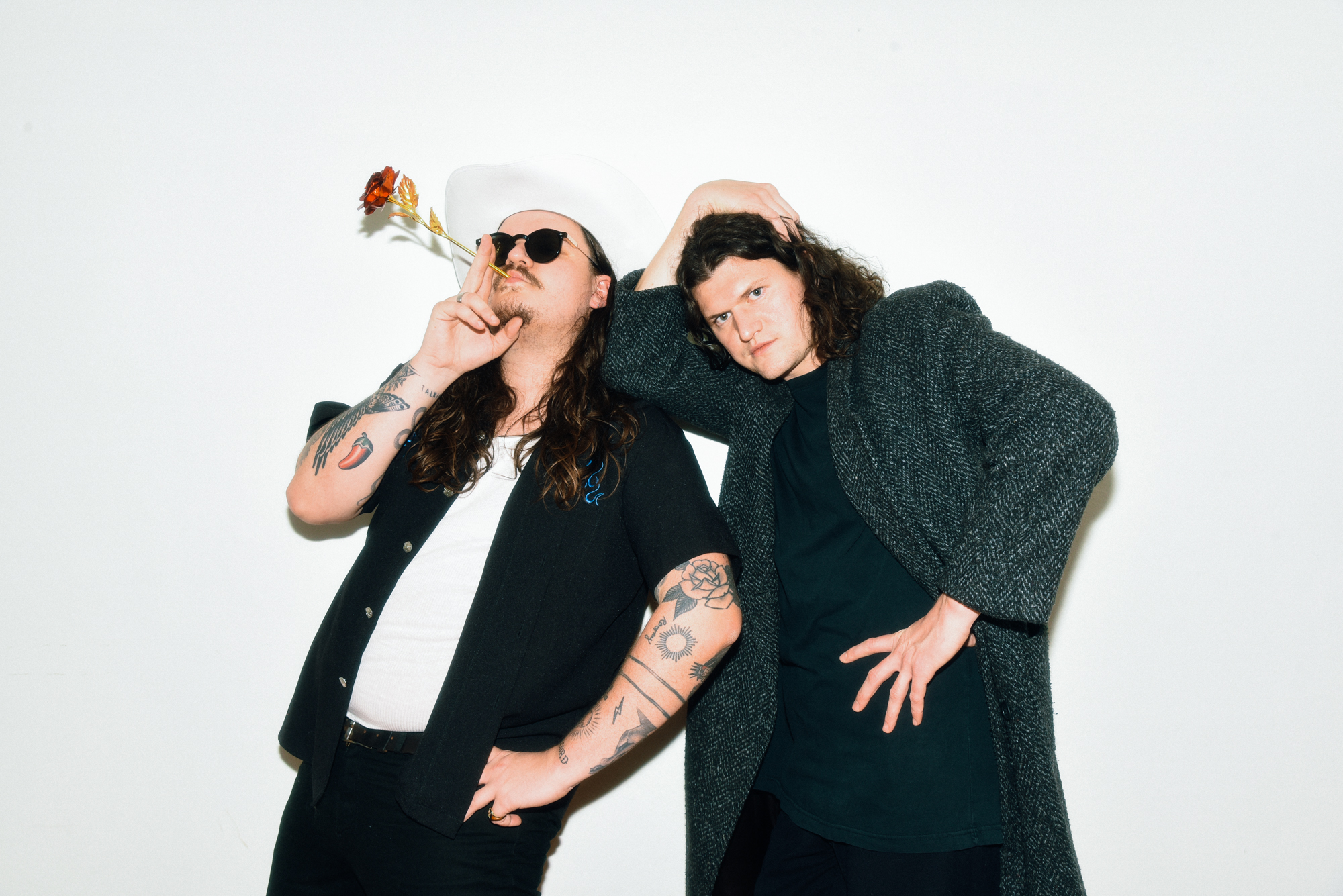 The independent pop duo from Los Angeles, Mating Ritual (formerly known as Pacific Air) took on a self-imposed challenge: Five albums in five years. Today we stand at the final stretch of that journey. "Songs for the Morning and Evening Times" is the fifth studio Album of brothers Ryan Marshall Lawhon and Taylor Lawhon. What lies at the end? what is the final stage? Let's find out:
First impressions are ever so important, and whether you like it or not, an album's cover art *is* largely the first impression; going from their chosen artwork, I felt like I was in for a synth-wavy retro album (fine by me, any day), and while there's a clear element of that throughout each song, It generally subverted my expectations by being so much more imaginative and ingenious than that, to the point where I felt like Mating Ritual managed to even redefine what "Retrowave" means by taking it to a brilliant new direction.
I wasn't quite ready for the experience, and I'm glad that was the case, because each time they managed to defy genres and innovate upon the previous song, I think that to call them "pop" is a strong disservice to the range of musical expertise they show, and attitude-wise alone, I think they're far more rock & roll than that.
Catchy as hell through and through, "Songs for the Morning and Evening Times" uses electro-pop and powerpop sensibilities to bolster and enrich the more traditional guitar-bass-drums combo. This is already a staple of Mating Ritual, but compared to their previous 4 albums, I feel like this time it's crystallized in a different way, that aspect of the sound is much more evenly distributed than say in album #4, "The Bungalow" and It feels like there's always something going on on the "Electro" side of things -whether it's the synth or something else- that brings a certain uplifting and wholesome charm to the album, this is especially true once you consider the lingering presence of child-like feminine backing vocals that accompany Ryan's own voice during certain tracks, which I'll henceforth refer to as Ryan's Cherubs.
Get your headphones and accompany me as we take a bit of a closer look at each song:
Old Disco– Kicks things off with alt-rock energy that's highly reminiscent of Jimmy Eat World and Electric Six to me. I suppose it's very important to point out that the first song in an album called, "Songs for the Morning and Evening Times" should be electrifying GO! music to kickstart a busy morning, and  I can't tell you exactly if the album's name came before or after the fact, but as it goes on and on, it becomes obvious that there's a sense of passing time as if each song is meant to represent a timeslot in a day. "Old Disco" hits like a splash of cold water at 7:35 AM and a strong mug of black coffee. It's effervescent and extremely catchy.
Nah– both the title and the mood of the song come off as a retort to "Old Disco". Once the rush of caffeine wears off and you settle into the groove of the morning, things lose some of the shine and motivating charm. "Nah" comes off both musically and lyrically as a tongue-in-cheek anthem against the jading slog of routine, and it makes fun of its own disillusionment without being too cynical or bitter about it. There's almost an interpretative drunkenness to  Ryan's vocals that play really well off the brass elements brought in for an added celebratory impishness in the sound.
Feel real– breaks up the intense mood of "Old Disco" and the ironic charm of "Nah", bringing the record into a slower and more relaxed ambiance. Feel real is a summer-vibes track that feeds off of Reggae chord progressions to build that expanding, fluid and warm sound.
While the two previous tracks can easily be interpreted as cheeky party-like songs, "Feel Real" instead asks for a closer ear and brings the mood to a different place to allow the listener some breathing room. it also marks a bit of a shift in the album for the next few songs.
Pineapple – Is an acoustic-heavy song accompanied by a whistle-like melody that plays an integral part in transforming the piece into an ode to daydreaming. The track continues the more relaxed trend of "Feel Real", however, it's stepping lyrically into a space of romantic emotivity and longing, while also boasting a very strong hook. "Pineapple Lady. Driving me crazy. Where did you go?" is repeated through the song by both Ryan and the sweet childlike backing vocals I mentioned earlier that will become a recurring feature of the album from now on.
From the moment the song ended, I knew was going to hit replay a few times, because I distinctly remember feeling like "Pineapple" really had the potential to become a huge hit single for the brothers, and I think it could also be an absolutely gorgeous "unplugged" song if arranged to an ever slower and mellower tempo.
Vodoo No2– Is a follow-up to a song found on their 4th album, and it's in my opinion the better of the two as well. I suppose I was primed by "Pineapple", but this song became my favorite right away. The shimmering guitar and vaporwave-y synth harmonies make for a stellar alt-rock ballad with a mournful cooing that departs almost completely with the rest of the album, it's not a jarring contrast but it's a contrast nonetheless, one that makes for a very interesting addition that feels tailor-made for me. To my ears, Vodoo No2 would be on the Evening time side of the album, and it in fact marks that turning point for the rest of it.
Covered in love– has a tough job, it's not easy to follow the previous song. So what does Mating Ritual do? they loop back around to the perky and fun sound of the first two tracks, not completely, mind you, but with a far more power-pop slant this time. "Covered in Love" also stands out as having the potential to become a huge hit in my opinion. its sound engages far more with the retro aesthetics advertised by the album's cover art, particularly at the beginning, but also in the positive and sincere young love vibe of the lyrics, which are perfectly backed with a huge emotional charge by the chorus of Cherubs around Ryan. if by now you aren't stunned by the capacity for catchiness that the brothers are capable of, You need to go to the hospital right now 'cuz you have no pulse.
it's worth noting that at both 1:16 and 2:23 the song kicks into some great guitar solos, a bit too short for my taste but gorgeous nonetheless, and they bring a very new sound to the table making sure that it's completely impossible for the listener to get bored with the album.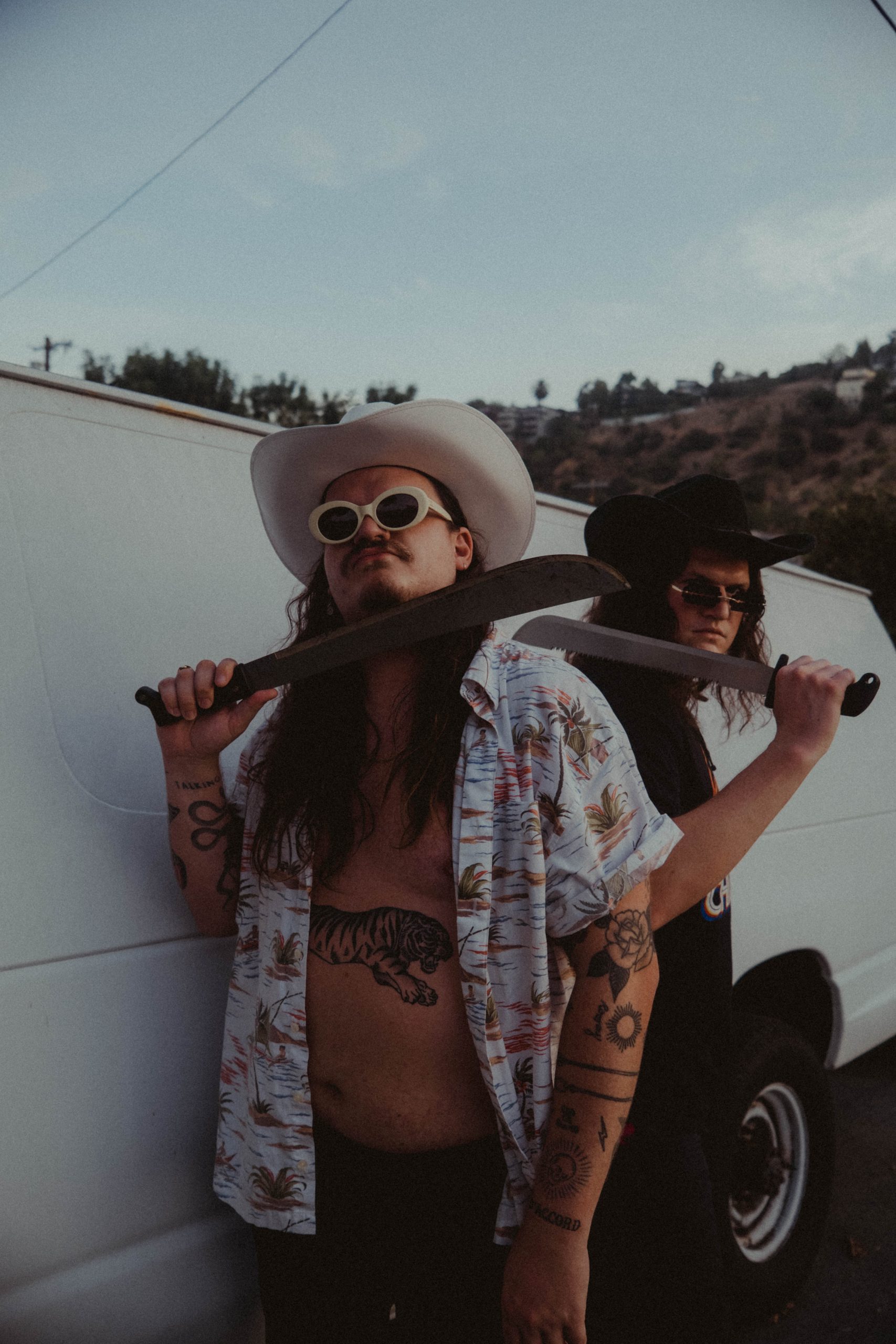 Tell me you don't love me– Starts out in what I feel is a completely intentional homage to MACINTOSH PLUS' seminal vaporwave take on Diana Ross, however, it quickly evolves into a smooth and very genuine electro-pop romance song that also harkens back to late 80s power ballads, again toying with the listener's expectations of what "Retrowave" is or can be.
This song is not quite my favorite song of the lot, but I still believe It probably deserves the most praise of them all. Why? Well, because of the way it redefines so-called "Retrowave" music. it does not attempt to sound retro, it isn't a "revival" song or a remix, and it doesn't copy the sounds of the era by tuning its synthesizer to classic Moog or DX7 presets. what it does instead is recapture the spirit of a bygone musical zeitgeist with its deeply sincere lyrical approach. Allow me to elaborate:
If I put my cynical glasses on, I'll be honest and say that the song is corny as can be, but the beautiful part is that it doesn't care, and even beyond that: It's not self-referential, and it doesn't feel like it has to be self-aware about its own corniness. Tell me you don't love me boasts classic and timeless oldies-goldies sound and it completely rolls with it, at no point does it feel facetious or insecure about itself *THAT* is sincerity, and that is the logical conclusion of any and all "Retro-x" sound. Huge props to Mating Ritual for this achievement.
I'm not crazy– Ryan's cherubs break out by themselves, they strike up the song and own the chorus through and through. I don't have as much to say about this one as I did the previous songs, but that shouldn't reflect negatively upon it, I think it's a great song that once again takes you through unexpected turns. I think it's weirdly the *cutest* song about depression that i've ever heard.  It was also by the 2:56 mark in this song when the solo and the crescendo strike that I began appreciating the work done in the production and mastering department for this album, everything has been so well-paced by this point that you can feel the music contracting and expanding with you, it plays wonderfully with your emotional states, never being strenuous by staying on a single sentiment for too long.
I don't like anybody but me– Starts out almost as a Bitpop, however, it quickly kicks into gear by becoming a danceable club tune, again defying expectations. it reminds me a lot of "I gotta Feeling" by Black Eyed Peas -and if I'm frank- I didn't really like this song all that much, then again, I never liked The Black Eyed Peas much either. I thought I don't like anybody but me was fine but it felt underwhelming when compared to everything that comes before, and thankfully also everything that comes after it as well.
Again, it's a fine track, not bad by any means, and It's easy to recognize its potential as a club song to get it on with, but It just wasn't for me.
Alone- I think Alone borrows parts of Molly Nillson's "Hey Moon" piano melody. Alone is melancholic and mournful, there's a certain weariness to it,you can feel the sun setting on the album, the weight of the entire day now heavy on its shoulders, and we're getting ready to wrap this journey up.
Alone takes its time to build up to its end, its beautiful synth melodies expand and stay with you well after it's gone, so keep that lingering ennui clutched in your pocket as you move on to the final stretch of the album, you're gonna need it.
It's open if I fucking say it's open– Is not a song, it's a bridge between "Alone" and the true ending of the song, however, its placement here isn't coincidental nor unwelcome. It's an unconventional narration of an evening time event that plays upon the same retro aesthetic that the band has been dancing around. This It's actually a very short splatter-punk-themed synthwave explosion played completely straight and by the book, one that simultaneously releases some of the tension built by the previous song and clears the air with a melodramatic audio scene that mixes schlocky tongue-in-cheek implications of a violent outburst. If you've heard the likes of Mitch Murder or Perturbator, it takes that sound and runs with it for 8 seconds over a minute.
Magic Johnson- Is an absurdist take on the phrase "Never meet your heroes". Magic Johnson takes some of the remorseful sound of "Alone" and imbues it with a more straightforward synth-wave sound that was brilliantly heralded by the transition. Magic Johnson has a great glassy synth start and it swims in very warm waters filled with some genuine pain about an uncertain meeting with Basketball Hero Magic Johnson.
The one thing that was missing from this album comes up in this song. A  Great Saxo solo starts at 2:25 and I'm extremely grateful for its length. I'm a very big fan of saxophone music, often looking out for a place in songs where a lengthy solo could be placed by a gutsy enough musician, again major props to the Mating ritual for being those gutsy and visionary enough to rep the brass. The song finally fades out to the poignant call of "Our Heroes don't love us/Our heroes don't care", which would be more of w downer ending if the synth work behind it wasn't so wholesome and sweet, overall, Magic Johnson ranks as my second favorite track.
***
That was the end of the 5-years-5-albums journey for Mating Ritual, and our Journey through this amazing, nearly flawless compilation, however, this is not the end for the band, not by a long shot. These guys will be headlining their own shows starting this October with the help of Low Hum.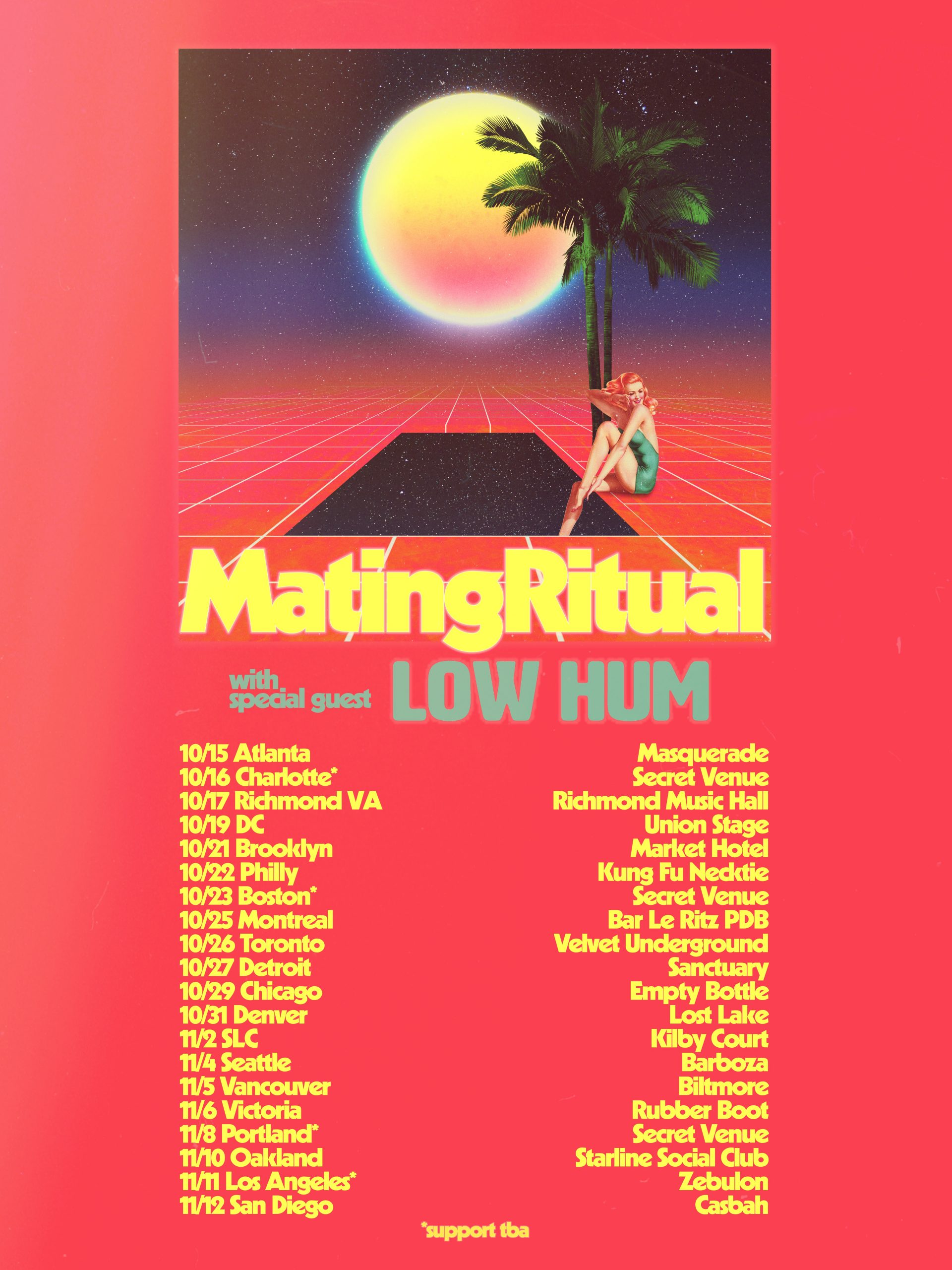 With a combined 50+ million stream across all previous albums, I expect all their shows will be packed to capacity, this is clearly just the Beginning for the brothers and their collaborators, who should be aware that they've set a very high bar for themselves with their "Songs for the Morning and Evening Times.
CONNECT WITH MATING RITUAL
INSTAGRAM // SPOTIFY
photos / courtesy of the artist
story / Samuel Aponte