Looking for everything you need to know about Madden 22? Then you're in the right place. Few things are as reliable as a new Madden launch. Every summer (between June and August), American football fans head to stores both physical and digital to pick up the latest, and (for now) only, annual NFL sim on the market. 
Madden is so popular in recent years that its past two launches have been the biggest in series history – and this year is shaping up to be no different.
We now know who's going to grace the cover of the game (it's both the Kansas City Chief's Patrick Mahomes and the Tampa Bay Buccaneer's Tom Brady) as well as some of the changes coming to this year's game. Chief among those changes are Star-Driven AI that takes into account how players are improving over the course of the season and Gameday Atmosphere that can positively or negatively impact the performance of players on the field.  
So, whether you're itching to kick off with new rookies like Trevor Lawrence and Justin Fields, or you can't wait to get your new Ultimate Team off the ground, here's everything we know so far about Madden 22.
[Update: EA is running its Spotlight Series in the run up to EA Play Live 2021 and we can expect Madden 22 to be the focus of a stream on July 19. Read on to find out more.]
Madden 22: what you need to know
What is it? The next annual installment of the Madden football seriesWhen can I play it? Madden NFL 22 launches worldwide on August 20, 2021What can I play it on? Likely Xbox Series X/S, Xbox One, PS5, PS4, and PC
Madden 22 release date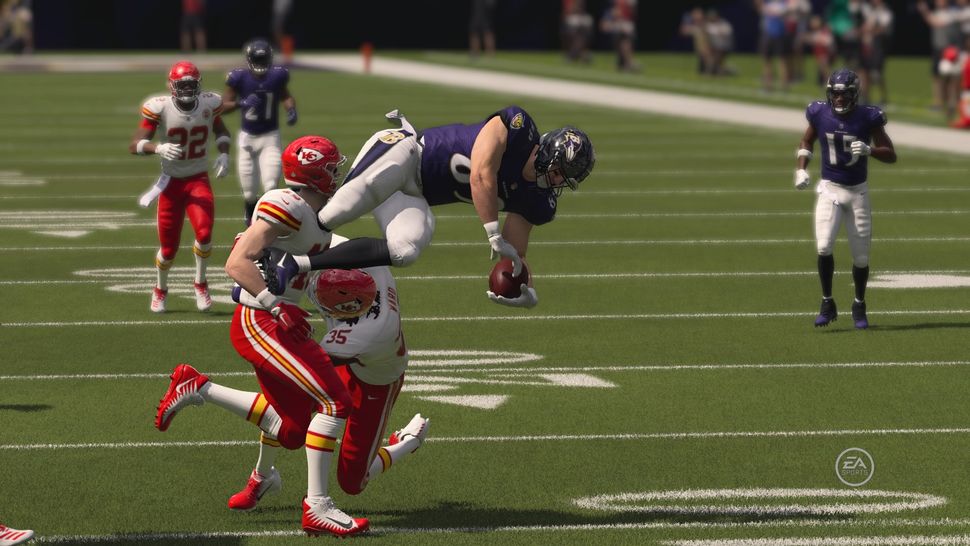 Thanks to the first post on EA's Gridiron website, we can now safely say that Madden NFL 22 will be available worldwide on August 20, 2021. 
While it's nice to have an exact date, it wasn't much of a mystery. The last several iterations of the game have launched in early to mid-August because it aligns nicely with the start of preseason football and the winding down of training camps, which is peak NFL hype season. 
That said, we should be thankful that Madden is releasing on-time – we saw MLB The Show 21 launch a few weeks after its real-life counterpart's Opening Day due to Covid-19 development issues. Thankfully, though, it hasn't impacted Madden.
Madden 22 trailers
What you'll find below is the first trailer for Madden NFL 22 that debuted on June 17 – E3 2021 week. The trailer, titled Gameday Happens Here, gives us our first look at the game in action and teases some of those new features we mentioned earlier like Gameday Atmosphere. At the end of the trailer we also get to see the game's two cover athletes: the Kansas City Chief's Patrick Mahomes and the Tampa Bay Buccaneer's Tom Brady.
Madden 22 cover athlete
This year you'll be looking at the faces of the Kansas City Chief's Patrick Mahomes and the Tampa Bay Buccaneer's Tom Brady every time you crack open the case.
The Super Bowl LV contenders are a pretty safe choice – especially selecting both of them – and we had sort of hoped that EA would pick Derrick Henry of the Tennessee Titans instead – and, according to a leaked photo from a Pennsylvania GameStop, that almost happened. The image was shared by TikTok user @jordanr03 and the cover art, if fake, is a great facsimile of the recent style the Madden box art design team took on beginning with Madden 21. 
Henry would've made a lot of sense (Derrick Henry even wears jersey number 22, c'mon!) but instead we'll see two of the all-time greats.
Madden 21 news and rumors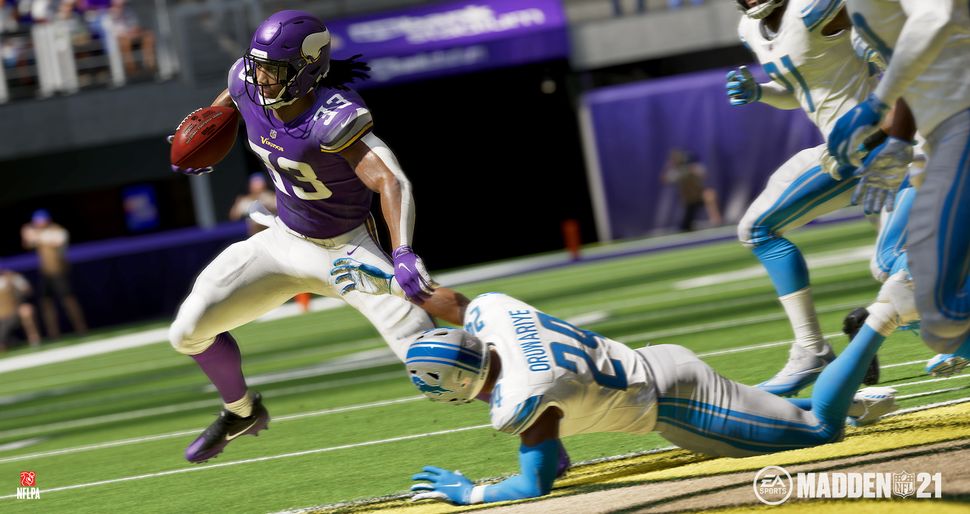 We've rounded up all the latest news and rumors surround Madden 22, below: 
EA Spotlight on July 19
In the run-up to EA Play Live on July 22, EA is running a spotlight series which it's using to deep-dive some of its upcoming games, Madden 22 among them. Madden 22 will take centre stage on July 19 at 4:00pm PT / midnight BST and the presentation is titled, "Madden NFL 22 All-Access: Scouting – How the Community is Shaping Madden NFL 22".
According to the official EA site, the stream will explore how EA has been "putting the voice of the player at the heart of the development process earlier than ever via the Madden Design Council." We'll also get a deep dive into the game's new scouting feature, while developers, Seann Graddy, Tom Lischke, and Andre Weingarten will "come together to discuss the vision for their ultimate sandbox mode, Franchise."
EA explains why PC is last-gen
EA has been revealing some next-gen exclusive features for Madden 22, leading fans to question why the PC version won't get them and will therefore sit alongside the PS4 and Xbox One releases in terms of features. In a statement to Sports Gamers Online EA explained, "It's something being explored for the future. We're still early in the transition to next-gen and right now the team is focused on making the best, quality experience on new consoles before looking to upgrade other platforms."
While this is promising in that PC players could one day get access to next-gen features via some kind of patch, the lack of a timeline makes it hard to get too excited.
Breaking down Dual Entitlement
As a cross-gen title, Madden 22 is going to be a part of EA's Dual Entitlement offer which it's detailed in a Gridiron Notes post. As EA explains, "Dual Entitlement enables you to upgrade your copy of Madden NFL 22 from PlayStation 4 to PlayStation 5, or from Xbox One to Xbox Series X|S at no additional cost."
Dual Entitlement will be available to those who pre-order the Madden NFL 22 MVP Edition and the Madden NFL 22 Dynasty Edition, with a digital purchase providing a digital upgrade, while a physical purchase will come with a single-use code in box, for one digital copy of the full game on the relevant upgraded platform. Standard Edition does not qualify for Dual Entitlement.
EA has provided a breakdown of what will be available to players on different generations of consoles which can be found below:
If you upgrade to a next-gen console within two months of purchasing Madden 22, EA has said that Madden Rank, Wallet, Vanity purchases, Avatar look/loadout, and player class progression will transfer over to your new console. 
There are mode-by-mode differences when transferring to new consoles. With The Yard and Face of the Franchise, all progression carries over. With Franchise mode, though, specifics will not carry over, "so you'll get the chance to rebuild and recreate your team with incredible updates on the newest consoles." When it comes to Madden Ultimate Team, everything carries over "except progress in competitive modes, like Weekend League."
EA Play Live is coming
Although we got the chance to get a look at Madden 22 during E3 2021, we imagine we'll get to see a little more during EA's official EA Play Live event, streaming on July 22. Sitting just before the game's August release date, it'll give EA the chance to tell fans everything they need to know about Madden 22. Although an exact lineup for the show hasn't been confirmed, we'd be surprised if Madden 22 wasn't present in some capacity. 
EA Play Live is coming back July 22nd. Save the date! pic.twitter.com/qh9OOGhPTmMay 11, 2021
See more
Improved Franchise modeWith last year's game, Tiburon righted some perceived wrongs according to the fans by committing three sizeable post-launch patches to the game's Franchise mode, which has taken a backseat in the series' recent history thanks in large part to the ultra-lucrative Madden Ultimate Team mode. 
For the first time in the series, you'll be able to build, grow and customize four staff positions: Head Coach, Offensive Coordinator, Defensive Coordinator and Player Personnel. You'll also be able to implement comprehensive weekly strategies, and EA has promised that Franchise mode will see improvements post-launch via live service updates. 
Executive Producer Sean Graddy said that's the team's intent following the third and final Franchise update to Madden 21. ""We see your 'fix Madden franchise tweets and we understand your frustration," said Grady in a Twitter video you can watch below. "The franchise community is critically important to us and we appreciate your passion for Madden NFL. We're reading your feedback and we clearly understand that you want more. We've seen your request for details around what the franchise community can expect moving forwards, and while I don't have a lot of details I can share right now, I can tell you that our team is actively working on bolstering plans to support the franchise in Madden 21 and beyond."
An update from Executive Producer Seann Graddy pic.twitter.com/RFpco0KNH1July 2, 2020
See more
But why is EA doubling down on Franchise mode in particular? Well, EA shared the surprising stat that 80% of Madden games take place against AI opponents. The aim, then, has been to ensure that Franchise mode gets the attention it deserves, and that each game in Madden 22 feels fresh when playing against the computer. Madden 22 also hopes to capture the dynamic nature of American football, and everything that entails. 
Dynamic Gameday… but only on the PS5 and Xbox Series X/S
Dynamic Gameday is made up of three elements: gameday atmosphere, momentum and star-driven AI, which promise to create unique stories and possibilities during each and every match. The catch is, though, it'll only be available on the PS5, Xbox Series X and Xbox Series S versions of the game. 
Gameday momentum is an entirely new mechanic that tries to capture the swings that occur in each game, along with adding home field advantage that makes away days so difficult for traveling teams. You'll have to battle against a number of perks known as 'M-Factors' which can make situations such as passing, kicking and running with the ball far more difficult. 
Star-Driven AI takes into account how players are improving over the course of the season and their tendencies that the developers are noticing in their play-calling, while Gameday Momentum helps you maintain the advantage when you're hot, and makes it more challenging when the crowd's not on your side.
The Yard will return in Madden NFL 22There's also the expectation that The Yard will return after a promising debut last year. The Yard is the new arcade mode that plays closer to the days of NFL Street than a true-to-life simulation. The mode is flashy, fast, and fun. Not for nothing, it also offers an alternate route for microtransactions by allowing EA to sell cosmetics. This is helpful since EA's Ultimate Team economy, which has been likened to gambling, may keep getting banned in countries around the world like it already has been in The Netherlands and Belgium.
According to EA, "You can now visit new fields located on gorgeous beaches and beautiful mountain landscapes across the world, battle boss characters with unmatched NFL talents, and unlock celebrations and items for your avatar. Plus, a new ranked mode can allow for you competitive Yard players out there to test your skills against one another and earn rewards."
Look for Madden 22 to continue to focus on its main pillars of Ultimate Team, Franchise, Face of the Franchise – the game's story mode – and probably a return of The Yard. Superstar KO and The Yard serve overlapping fandoms, but EA did allow them to coexist last year rather than ditch the older mode for the newer one, so hopefully both return once more. As EA opens up a bit more about new modes, changes to the game's story, and other new ways to play Madden 22, we'll be sure to cover it all here.