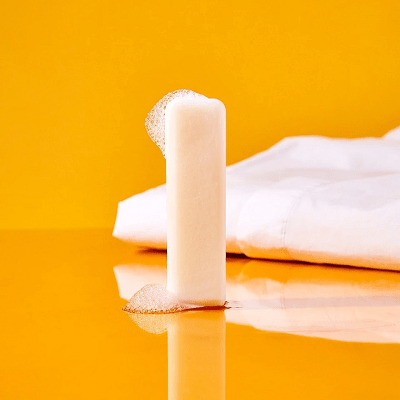 I clicked on one of those clickable articles from Buzzfeed recently ("36 Products that Work So Darn Well They Deserve an Award!") — some weren't a surprise (duh, the Revlon One-Step Brush/Dryer), but I was very happy to hear about this cool laundry stick sold by Celsious.
They describe the stick as being great to pre-treat all kinds of stains, "from yellowing pits to oily smudges. Works for oil, makeup, food, soil, and other stains (even poop!) on all fabrics. Unlike conventional stain sticks or pens, our formula is non-toxic, biodegradable and fragrance-free. The labels and pouch are fully compostable!" AWESOME — sounds like a real upgrade from your basic laundry stick.
According to Buzzfeed, Celsious is a Black woman-owned small business laundromat in Brooklyn [Williamsburg]. The shop is energy efficient, and they also sell eco-friendly garment care products and accessories.
Love it! You can buy a stick for $8 at Celsious.
This post contains affiliate links and Corporette® may earn commissions for purchases made through links in this post. For more details see here. Thank you so much for your support!
Workwear Sales as of 07.26.21…