Cloudways was founded in 2011 and is based in Malta. The company is working diligently, with active job postings on LinkedIn and constant blog updates, both regarding newly introduced features and general trends in the industry that could interest their users. 
Since Cloudways acts as an intermediary between cloud hosting providers and end users, they don't have data centers as such, since the data centers used belong to each provider. This gives them access to far more data centers than other web hosting providers can claim, which they say is more than 60, with locations throughout North America and Europe, but also a few in Asia and Australia. One of the biggest advantages they offer is the choice between these locations – instead of automatically assigning you a data center, you can pick a location by yourself to make sure it's as close to your target audience as you want it to be.
Cloudways is an interesting hosting solution, geared towards more experienced users, which lets you choose one of five available cloud providers for hosting purposes. This means that, while they act as an intermediary between you, the client, and the actual hosting provider, they also offer you access to more data centers than you would otherwise get, and they combine it with their own features and customizations.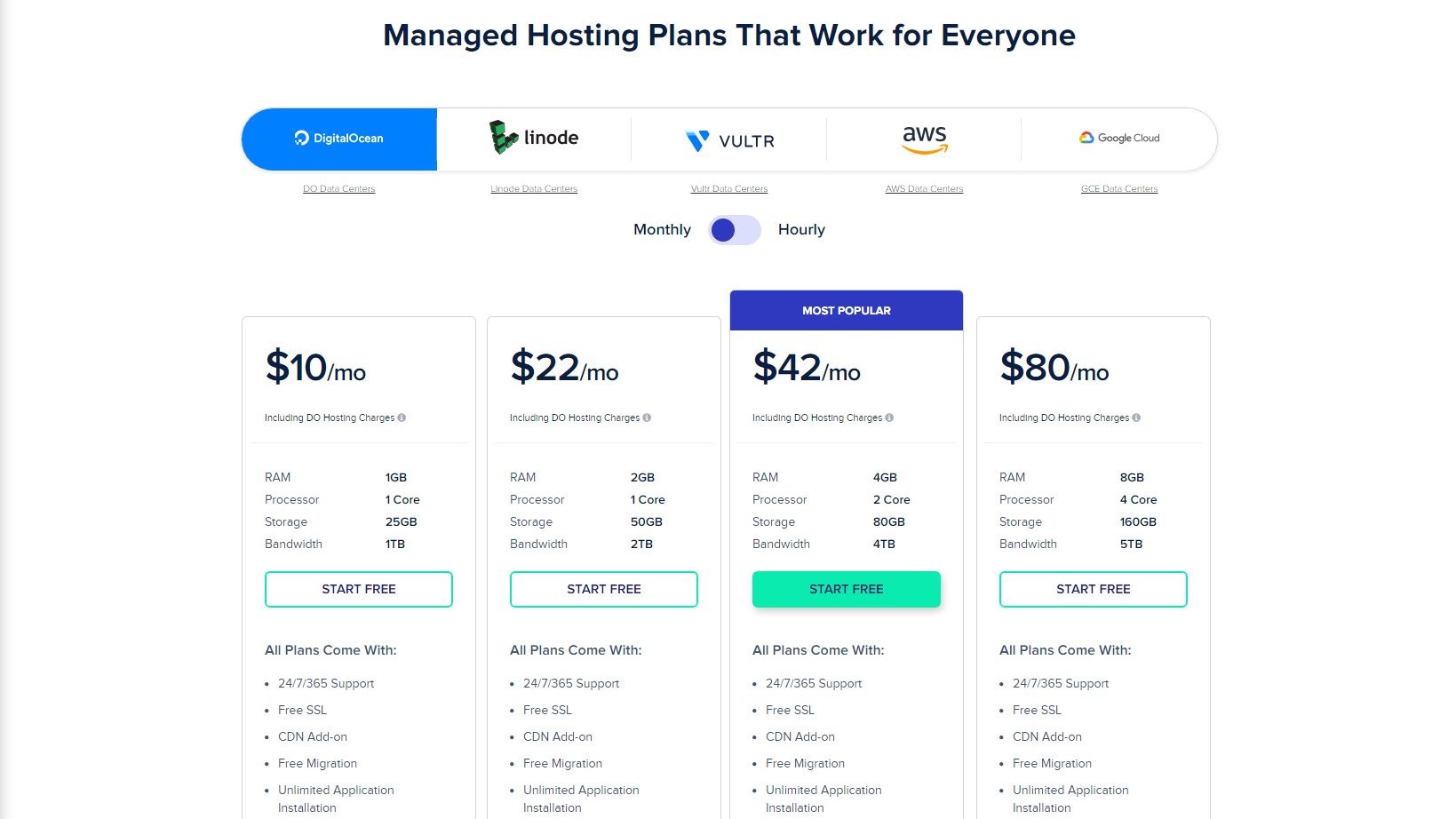 Pricing
Cloudways approaches pricing slightly differently from most web hosting providers, which means exact prices are hard to determine. 
They have a pay-as-you-go system of only charging for what you're actually using, and they charge hourly – meaning you can add or remove features from your account and only be charged for the time you used them. 
A general overview of the prices shows they start at $10 per month, but there is a three-day free trial available. They also charge per server, not per website, and include one free managed migration in every plan. Offsite backup hosting is charged extra at $0.033/GB per server.
Ease of use
When first visiting Cloudways, you'll be prompted to use their three-day free trial without entering any credit card details. What you're not told, however, is that you can only get a server of up to 2 GB. What's useful is picking out the features you need (server size, cloud provider, and the application you want to use) and getting the price calculated in real time at the bottom of the screen. Available cloud providers are DigitalOcean, Linode, Vultr, AWS, and Google Cloud Platform. You'll have to verify your account through both your email address and your phone number before you can proceed.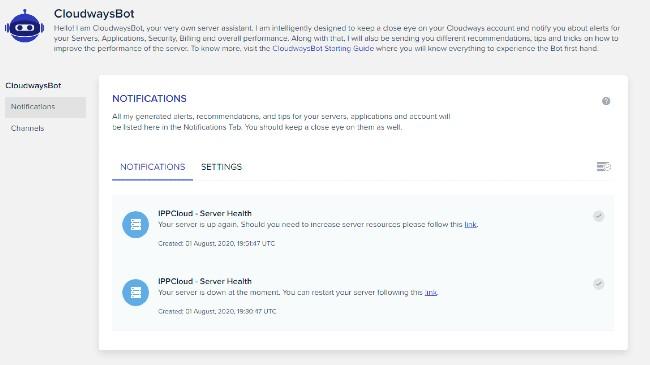 Your CloudwaysBot is your "server assistant" which lets you know everything related to your server (like when it's down), security issues, billing, as well as sending you tips and tricks – and it can be integrated with HipChat and Slack, so you get notifications delivered directly. You will also be prompted to refer a friend and receive $20 as part of their referral program, which also gives them $15 for signing up. 
You will have to register a domain separately, but for your most basic needs, Cloudways will give you a temporary URL. Its control panel is relatively complicated and obviously aimed at more experienced users, but even newbies can quickly familiarize themselves with the features they need and safely ignore most of the others. A WordPress installation takes only a few clicks and serves most website-building needs, but keep in mind there is no email.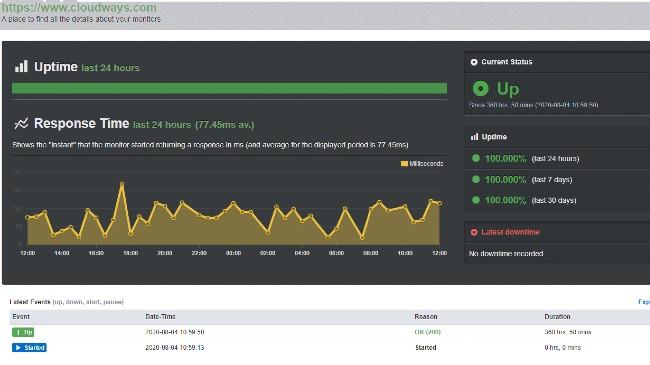 Speed and experience
When it comes to speed, Cloudways users are unlikely to have any issues – a GTmetrix test shows that the time it takes for the main website to load is less than average at 5.7 seconds and takes a mere seven requests. Users' experience might differ depending on the plan they purchase, but the hourly billing rates mean they can experiment with what they need and how much they're willing to pay for it.
Since Cloudways offers data centers from other providers to their users, they don't make any uptime promises on their website – those should be traced back to the cloud services they use. But we still put their main website to a two-week long test, which recorded no downtime at all, but quite a few oscillations in response speed. Overall, however, since users won't be hosting directly with them, this should not take away from their score.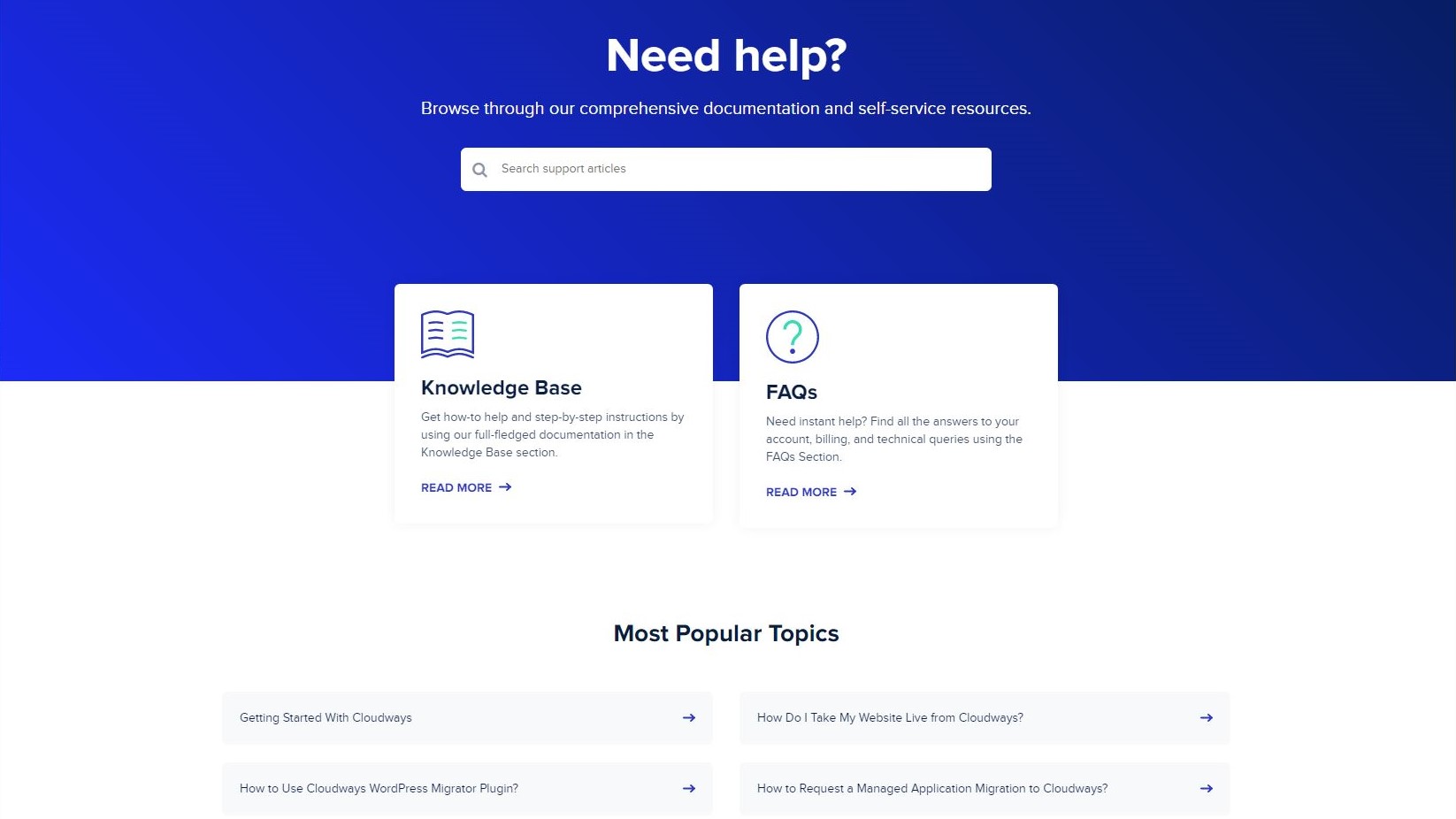 Support
Cloudways has a 24/7/365 support system, but additional features like proactive investigation, private Slack channel & phone support, and customization support will cost you extra – the Advanced plan starts at $100/mo while the Premium plan starts at $500/mo. 
While you can contact support through live chat at any time, to actually talk to a person through phone or Skype, you'll need to schedule a meeting through their contact form. Still, many questions are covered in their FAQ, while almost everything you could think of has a dedicated article in their Knowledgebase. The latter is especially friendly towards beginners, as it has a collapsible section with explanations of basic technical terms used throughout the article.
There's also a user community forum with employees answering questions, but it is not particularly active.
The competition
Choosing between Cloudways and DigitalOcean depends heavily on your technical knowhow. If you know exactly what you're doing, DigitalOcean offers far more detailed pricing depending on what you're using, while Cloudways gives you access to DigitalOcean without that precision. 
Although both of these companies offer excellent WordPress website hosting, they operate in fundamentally different ways. Bluehost offers a significantly wider array of hosting options. Cloudhost, however, has far more extra features in terms of tools and applications, as well as great customer support.
The situation is similar as with DigitalOcean: Cloudways offers Linode as one of the cloud providers on its platform, as the latter requires significantly more technical expertise and is not beginner-friendly. If you have that knowledge, Linode may be the better option, but if you prefer having multiple features in one place, Cloudways is the way to go.
Cloudways offers superior server infrastructure – in that they don't have their own data centers at all, but make use of 60+ different ones – but Hostgator has pricing that is considerably easier to track for users that can't handle hourly rates, since it's charged on a monthly basis. 
Final verdict
Cloudways is a great hosting provider with a myriad of features, but not beginner-friendly – anyone looking for simpler managed WordPress hosting may be better off using Hostgator or Bluehost. However, hourly rates mean every feature can be perfectly tailored to everyone's needs without breaking the bank.