Refresh
2021-11-27T14:13:34.294Z
After a soft reset (that's what we at TechRadar call sleep) we're back on track to bring you the best iPad deals right now. Black Friday may be over, but that doesn't mean the deals have stopped.
Saturday and Sunday are sure to continue offering up iPad deals, and we may see even more introduced on Cyber Monday. So far, we haven't seen much new introduced today but we've updated the list at the top of this page with today's best offers.
Throughout today we'll be talking you through each of those deals, and everything else we see in the way of discounts to the iPad range.
2021-11-27T00:51:54.599Z
Right, that's your lot for the night. Any more and the iPad deals might start to explode out of my eyeballs.
Let's check bcak in tomorrow for more of the same – and then, don't forget that the Cyber Monday iPad sales are where it's really going to be at.
2021-11-26T20:35:26.624Z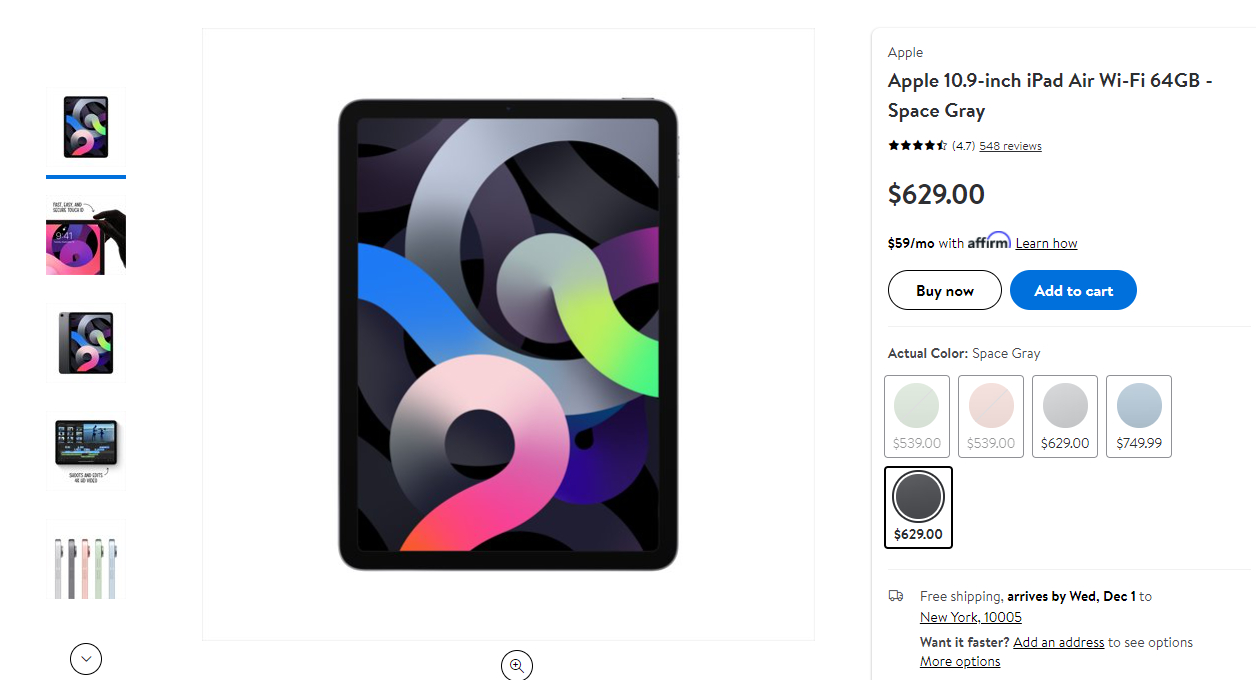 I tell you what, Walmart is all over the place with stock on the iPad Air. Some colors are out of stock (or 'check availability nearby') and others are in stock, but cost wildly different prices.
Want Space Gray? It's $629. Want Sky Blue? Spend $749, sucker.
2021-11-26T19:44:51.630Z
Ah, nutzables – that iPad Air deal at Walmart looks like it's now completely out of stock. No $539 iPad for you.
The best I can currently see is the same model – 64GB, WiFi only – for $589 at Adorama, which isn't the most exciting discount. But then again, if you're going to buy it anyway…
I would probably suggest waiting until the Cyber Monday iPad deals roll around to see if anything betters that… might be worth the gamble for $10?
2021-11-26T19:18:09.606Z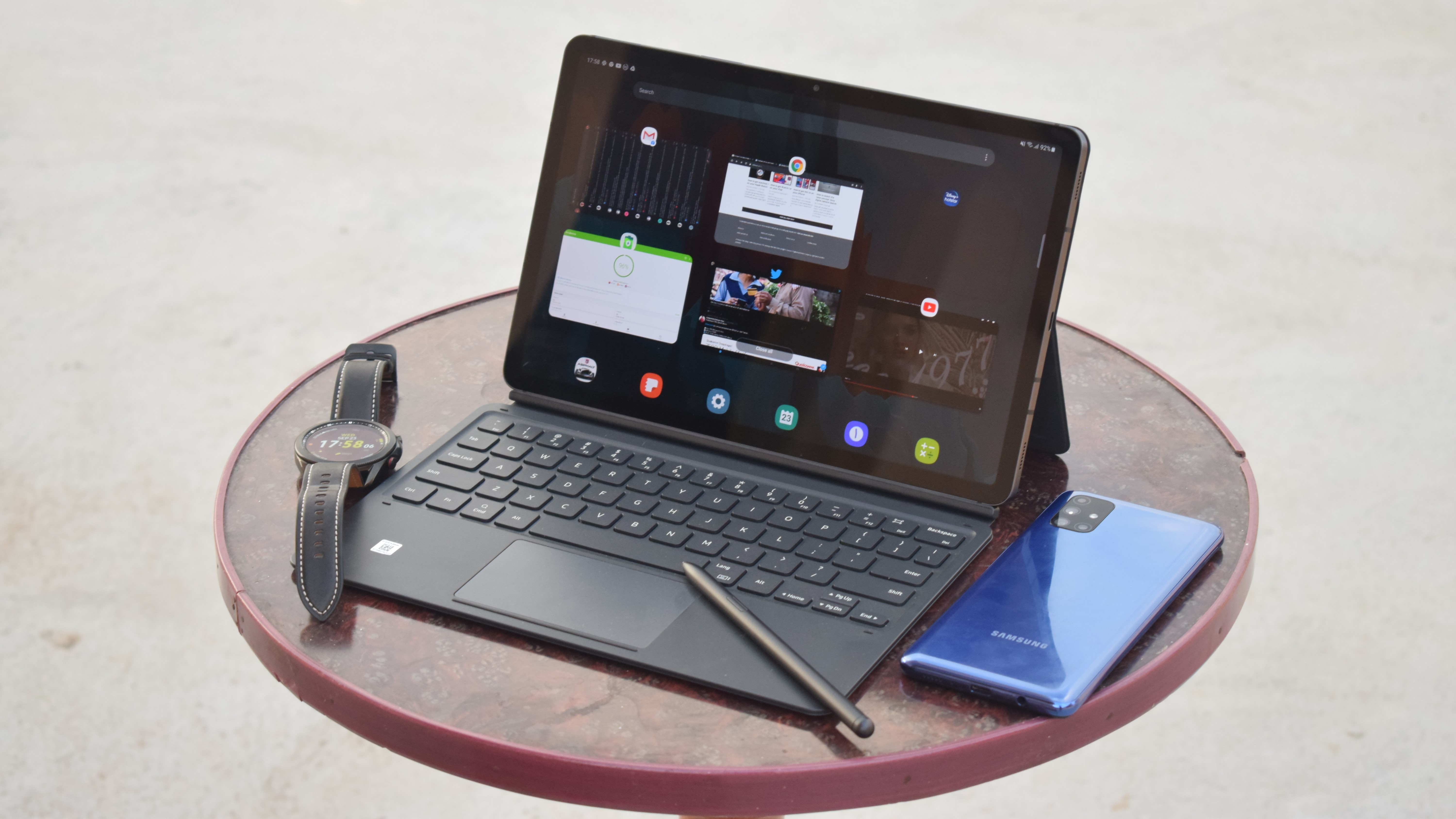 Our Phones Writer, Tom Bedford, just pinged me on Slack to suggest that, instead of promoting iPads on this iPad live blog, I should instead look at the alternatives – namely Android tablets.
I scoffed – scoffed, I tell you – but then I read what he wrote:
"we're talking just $50 / £50 off super-power iPad Pros, and sometimes no discounts at all on entry-level or Mini tablets – and this outlook very likely won't change for the Cyber Monday iPad deals."
Then you see that there's $200 off – down to $498 – the excellent Samsung Galaxy Tab S7, and you do start to wonder…
2021-11-26T18:15:44.044Z
Let's take a little look at what's doing well from this article – what are the devices people are clicking on the most?
In the US, it's the iPad Air deal at Walmart: if you want it for $539, down from $599, it's right there for you – although availability is looking a little sketchy at this time, so it may be a case of heading into a local store.
If you're in the UK, then it's this iPad Pro 12.9 deal – taking £150 off the cost to make it £1149. I get that sentiment – you want a lot of storage if you're buying an iPad Pro.
2021-11-26T17:07:07.722Z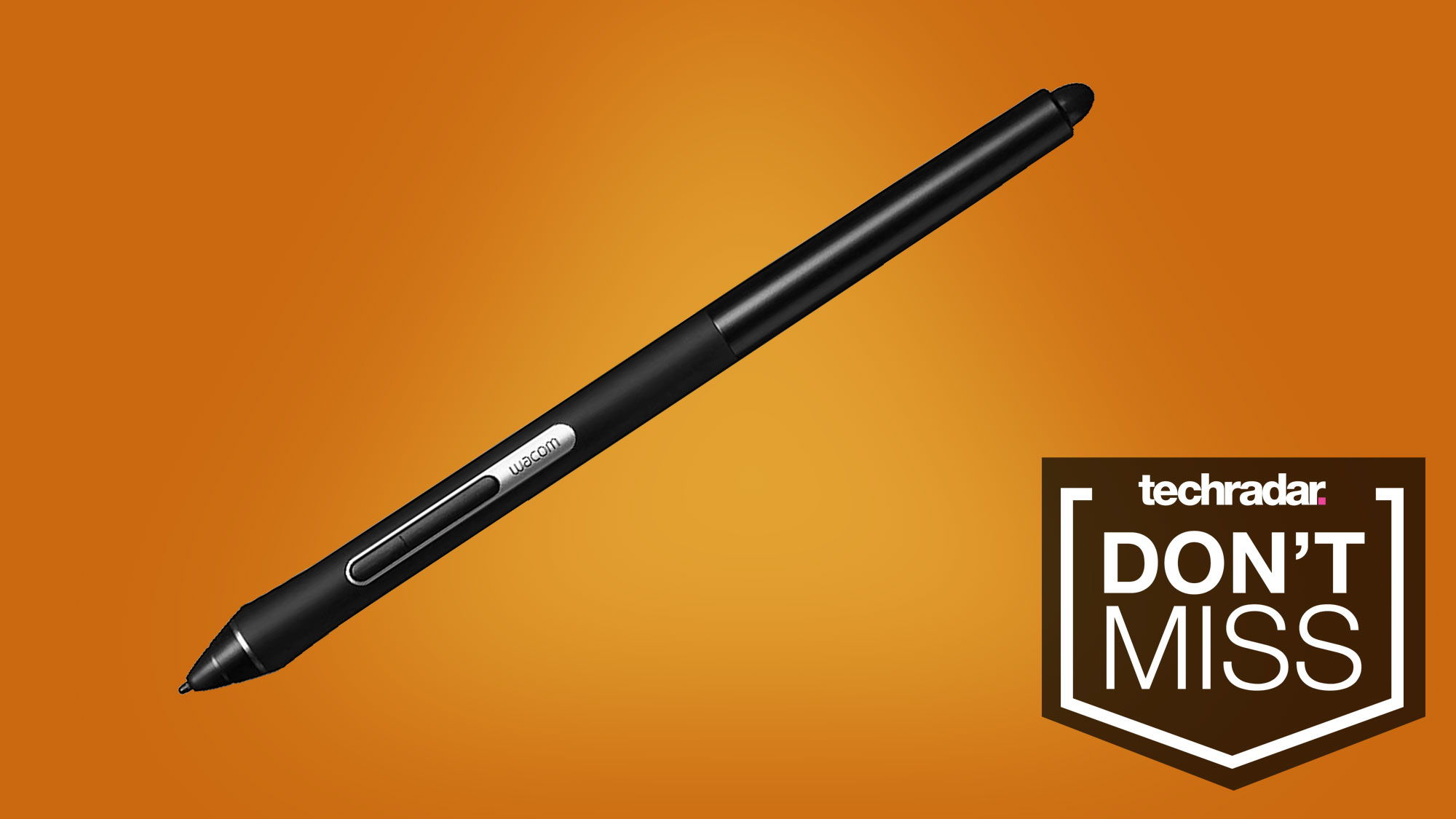 Here's another one for you – we rather rate the Wacom Bamboo Fineline Stylus as an excellent Apple Pencil alternative – and it's on a lovely Black Friday deal.
Get the stylus that's excellent at handwriting, but it's also tops for more intricate art – and if you want to buy it, Amazon has it for $69, down from $79.95, if you're interested.
It's hard to say much more about this other than, if you're someone who will be signing docs or just generally being a bit more suity-person with the iPad, this is a great choice for you.
2021-11-26T15:37:12.213Z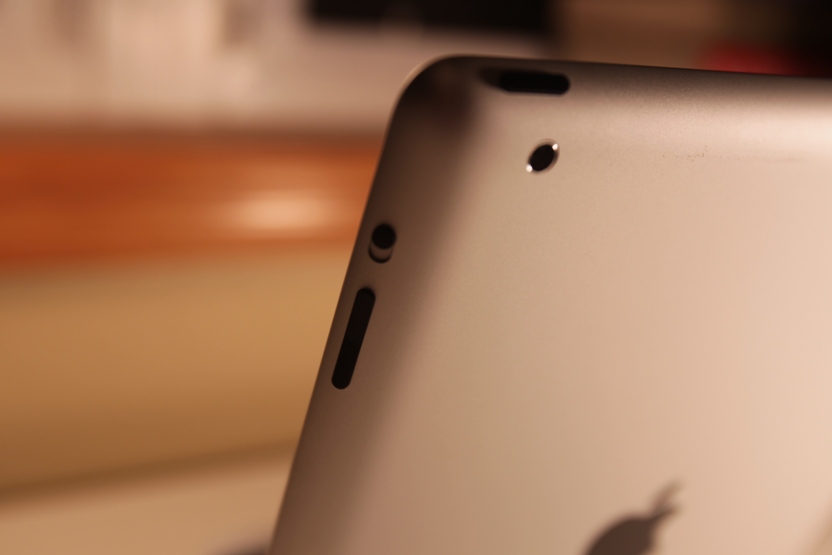 Right – what's the opposite of a deal? It's this.
Want to buy an iPad from the past? Do you want to spend $67.99 on it? Well, if you waddle on over to Walmart right now, you can pick up the iPad a refurbished iPad 2 – with 16 whole gigibytes of storage – for that princely sum.
Other highlights of this piece of tech include:
It runs iOS 9 Yes, that's iOS – it can't be upgraded to iPad OSIt's well oldIt's really chunkyYou cannot really use it as an iPad, more of a fancy tray that can carry a couple of drinks.
2021-11-26T14:53:24.269Z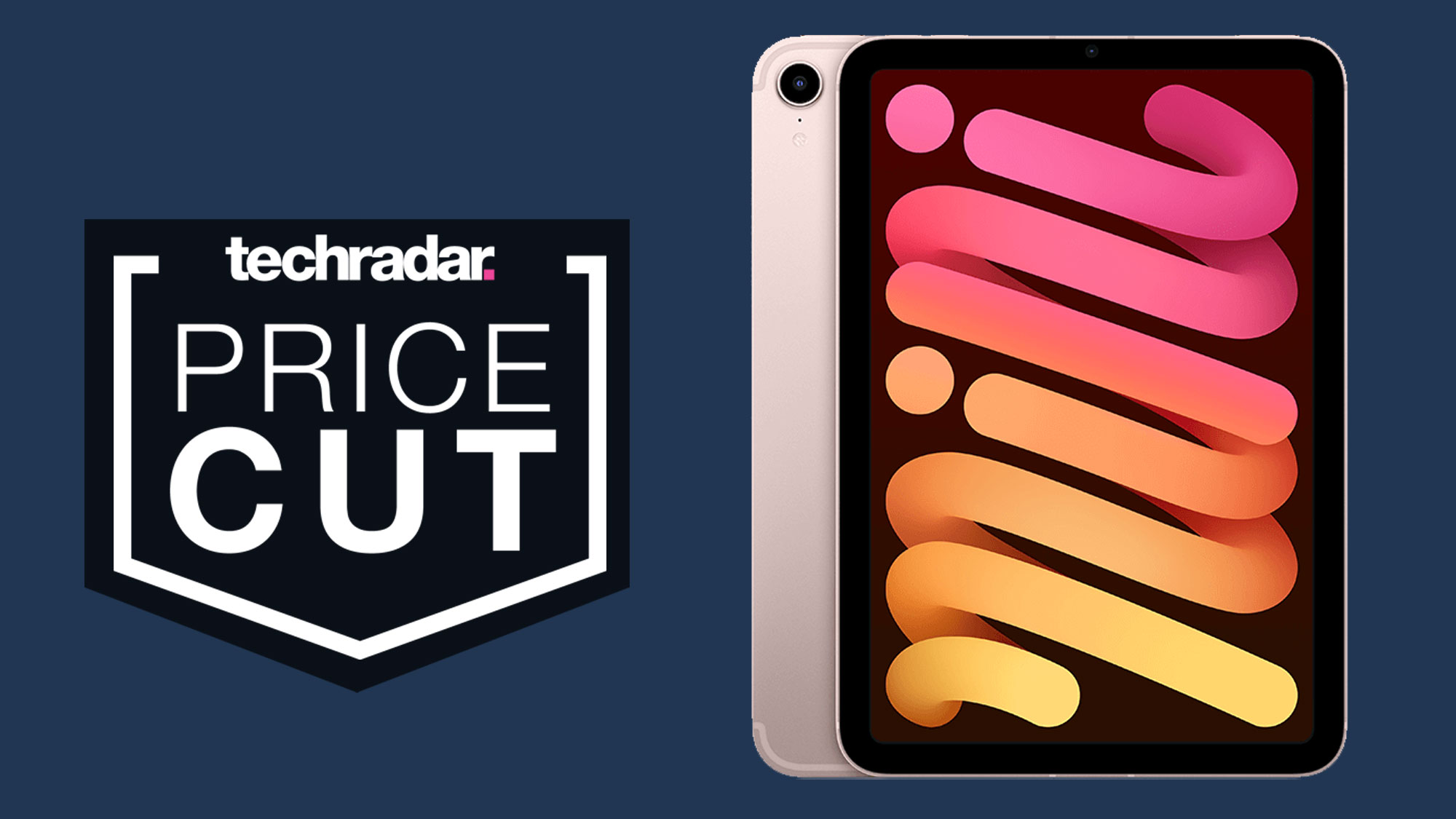 Hey everyone! Guess what! GUESS WHAT!? We've only gone and sniffed out an iPad Mini 6 deal!
It's not massive – we're not talking about losing hundreds off the RRP – but it is a saving on one of the better tablets Apple makes.
In the UK, you can get a mega £16 off the cost of 2021's iPad Mini to take it down to £463 – with slightly more if you got the higher capacity 256GB model.
In the US, if you opt for the cellular version, you can get the iPad Mini for $629.98 – this is only 'sort of' a deal, as it's been bouncing back and forth between this price and $649 for a while now. But it's on the cheaper end right now, so that ticks the 'deal' box in our eyes.
2021-11-26T14:14:00.110Z
It's time to sum up today's deals once again for everyone following along. The best we've seen for both the US and UK are below, but we have far more deals here if you don't find anything that suits you below.
Today's best US iPad deals
Today's best UK iPad deals
2021-11-26T13:30:44.015Z
Any tablet user may find a portable charger useful, and we've seen some deals on a variety of Anker products this Black Friday. For example, this Anker PowerCore with a 26,800mAh battery is $26 cheaper for Black Friday from Amazon at $39.99.
If you've got a brand new iPad mini, this should be capable of recharging your device at least four times before it runs out of charge. If you're looking for something slimmer (and therefore cheaper) this 10,000mAh alternative is down to $20 from $35.
2021-11-26T13:00:40.914Z
Notably, a lot of older iPad models aren't on sale during Black Friday 2021. In previous years, we've seen a lot of the best deals come from the models that are no longer on sale from Apple.
In 2021, the main focus seems to be on products released this year or in 2020 but haven't yet been replaced by new models. The biggest discounts we've seen in the last few weeks have been around the latest models in the iPad Pro, iPad Air and iPad mini lines.
2021-11-26T12:25:46.097Z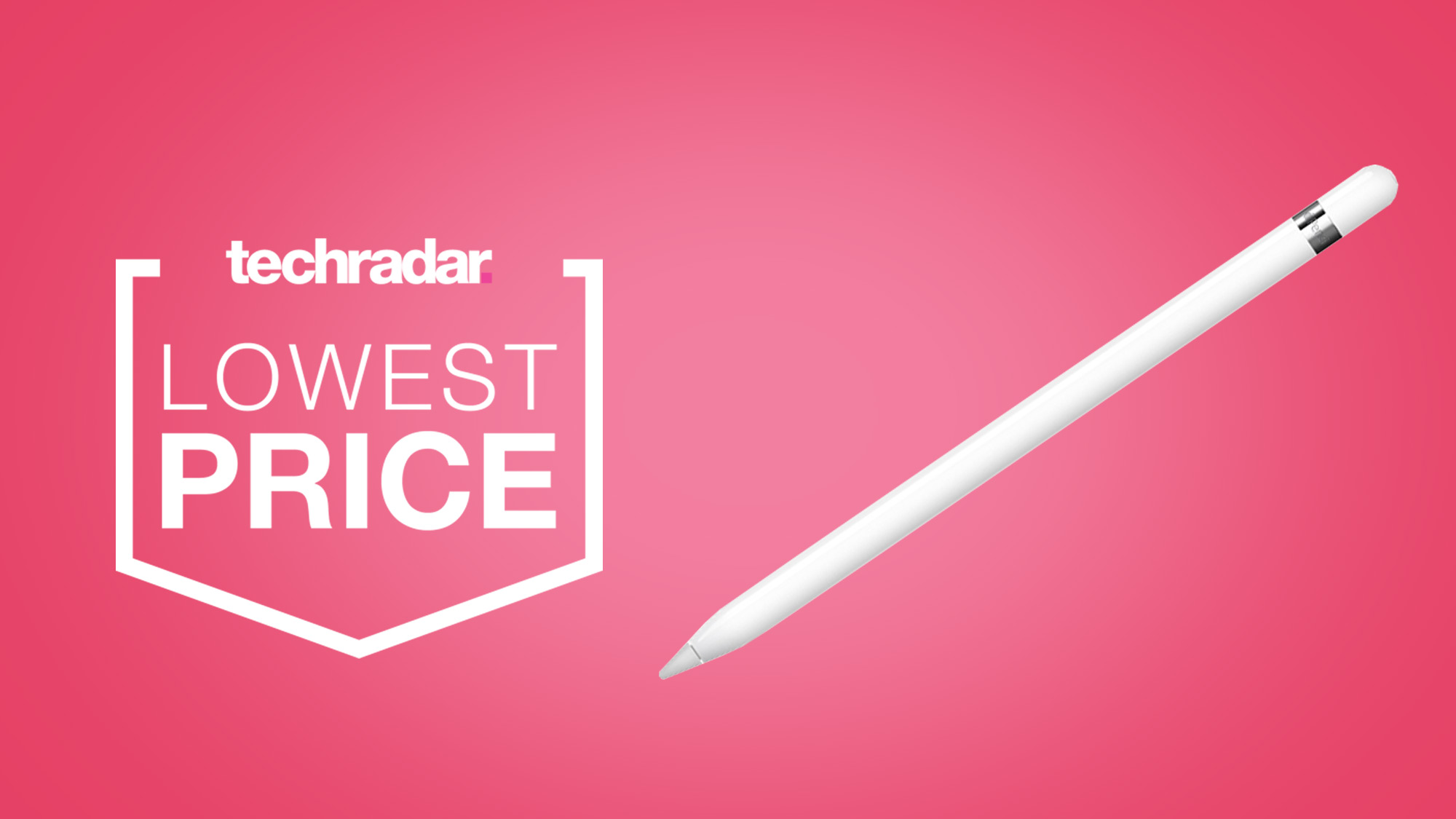 Own an older iPad? The Apple Pencil (1st Gen) is on sale right now in the US and UK with the best prices we've seen so far for the stylus. It costs $79.99 in the US, which is a saving of $20. In the UK, it's not such a big discount but it is down to £74 from £99.
Is this compatible with your iPad? Below are the models you can use this with:
iPad (9th generation)iPad (8th generation)iPad mini (5th generation)iPad (7th generation)iPad (6th generation)iPad Air (3rd generation)iPad Pro 12.9-inch (1st or 2nd generation)iPad Pro 10.5-inchiPad Pro 9.7-inch
2021-11-26T11:48:38.501Z
Now for something completely different – Apple Watch 7 deals. Whoa, whoa, bear with us – the thinking is that if you're interested in an iPad deal, you might well be up for hearing about Apple's best and latest smartwatch. If so, we've just seen the most recent Apple smartwatch hit its lowest price yet.
2021-11-26T11:20:36.363Z
How about iPad alternatives? There are lots of tablets on sale right now over Black Friday, and if you're not wedded to Apple's ecosystem you may find you can get a top deal in our best Black Friday tablet deals roundup.
If you want a top-end tablet…
We'd recommend the Samsung Galaxy Tab S7 or Galaxy Tab S7 Plus. These are two top-end tablets from Samsung, and while Android may not be as intuitive as iPadOS you may find these are suitable for what you need.
If you want a mid-range tablet
For this price, we'd recommend looking to either the Samsung Galaxy Tab S7 FE or the Lenovo Tab P11 Pro. Both of these tablets are on sale in the US, and they offer similar features to what you'd find on an iPad Air.
If you want a cheaper alternative
If you want an iPad 10.2, or perhaps something even cheaper, there are a lot of alternatives in the Android tablet space. For example, Amazon's range of Fire tablets are among the cheapest you can buy right now. If those aren't for you, perhaps try the Samsung Galaxy Tab A7 Lite.
2021-11-26T10:46:53.663Z
That iPad Air deal from Walmart is particularly good, and if it were more readily available we'd be championing it even more. Before the iPad Pro 2021 was introduced, we said "why go Pro when the Air is this good?"
At the time, we didn't know that Apple would be introducing its top-end M1 chipset inside the iPad Pro line in 2021. However, that doesn't make the iPad Air from 2020 any less good. For most people, this is the perfect tablet.
We only recommend the top-end iPad Pro for those who need the most powerful and competent device on the market. If you're looking for something to play games, watch videos and the odd bit of productivity work, the iPad Air 4 is likely perfect for you.
2021-11-26T10:29:54.604Z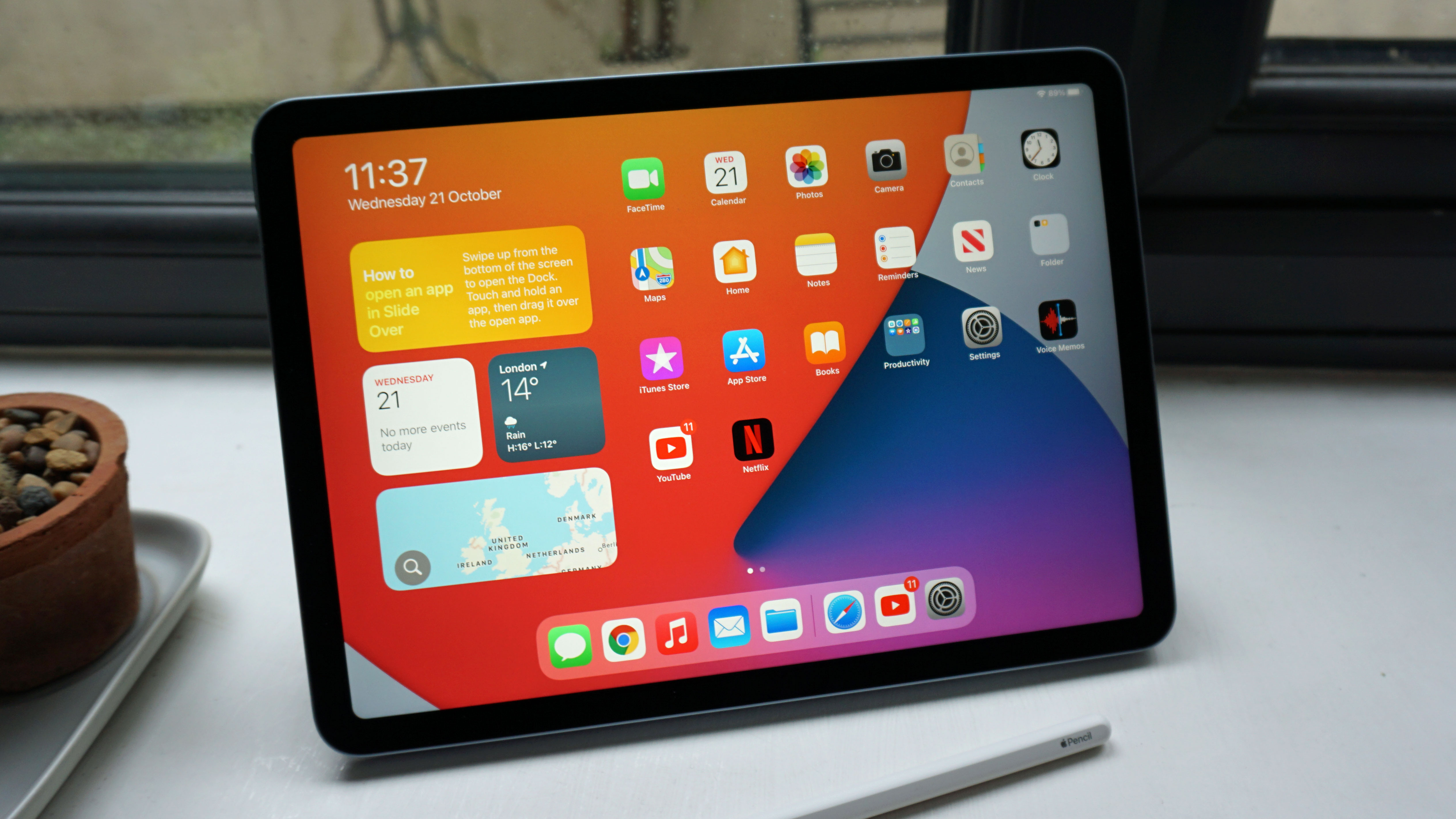 For those in the US, the iPad Air 4 is one of the best deals you can pick up today. It's discounted to $539 for certain colors on the 64GB and Wi-Fi model that you can pick up at Walmart today – but it's not easy.
We are struggling to see where it's in stock, and online orders aren't possible on this tablet anymore. It's worth checking to see if it's in your area if you're after an iPad Air. 
If it's not, your next best price is a discount of $20 at B&H Video where it's $579. That's no where near such a good saving as the Walmart deal, but it could be your best option to get one before Christmas.
Meanwhile, in the UK we haven't seen many big discounts on the 2020 iPad Air. We've seen the price drop to £552 (it was originally £579) but that's around the price it has been for the last six months or so. There's no need to snap this deal up immediately in the UK, unless you're desperate for the new iPad Air.
2021-11-26T09:17:46.472Z
The same goes for the iPad Pro 11-inch in its 2021 edition. The 128GB variant is down $50 to $749.99 right now at Best Buy. There are also discounts on every other storage variant, from a variety of retailers.
In the UK, the discount is £50 at Currys that brings the price down to £699.
2021-11-26T08:44:53.505Z
If you're looking to save money on an iPad Pro, don't opt for Apple's gift card deal. In the US and UK, there are plentiful deals on the most recent iPad Pro, and it'll give you a discount rather than a gift card.
For example, the iPad Pro 12.9-inch is down from $1,099 to $999 in the US for the 128GB of storage variant. There are also savings on the other variants, too.
It's a similar situation in the UK, but the savings aren't as strong on the 128GB model that is dropped from £999 to £949. That said, there are some fantastic savings on the 512GB model in particular.
2021-11-26T08:14:57.029Z
And… the Apple Store is alive. It doesn't seem like it was an issue with the store, and instead the company pulled its website so it could update for its Black Friday deals.
Apple often does this around big events, such as its iPhone launches. You can now grab a variety of Apple gadgets from the online store, and some will come with a free gift card. How much will you get? For an iPad Pro 2021, you'll get either $100 or £80.
USUKiPad (Pro 11 / Pro 12.9)$100 gift card£80 gift cardiPhone (12 / 12 mini / SE)$50 gift card£40 gift cardAirPods (2nd / 3rd / Pro / Max)$75 gift card£60 gift cardWatch (SE / 3)$50 gift card£40 gift cardMac (Air / Pro 13 / mini)$100 gift card£80 gift cardiMac (2020 27-inch)$200 gift card£160 gift cardTV (TV 4K / TV HD)$50 gift card£40 gift cardBeats (Studio 3, Solo 3 & more)$50 gift card£40 gift cardAccessories$50 gift card£40 gift card
2021-11-26T07:55:55.786Z
The new iPad mini is one of the latest additions to the company's tablet range, and we particularly liked its small stature. In our review, we praised the iPad mini 2021 for its compact design, the fact it comes with 64GB (or more) of storage and the fact it features a powerful chipset.
As it's a relatively new product, deals are quite hard to find for the miniature iPad. In the UK, we've seen £20 off the iPad mini for the last few weeks. That price has weirdly increased for Black Friday, which may mean that stock is waning for this iPad mini at £463 from Amazon.
In the US, we've yet to spot a singular deal for the iPad mini 2021. That means you'll be paying full price for the tablet, which is currently $499 for the 64GB version at Amazon. We may see further deals today, but it's looking unlikely.
2021-11-26T07:30:31.521Z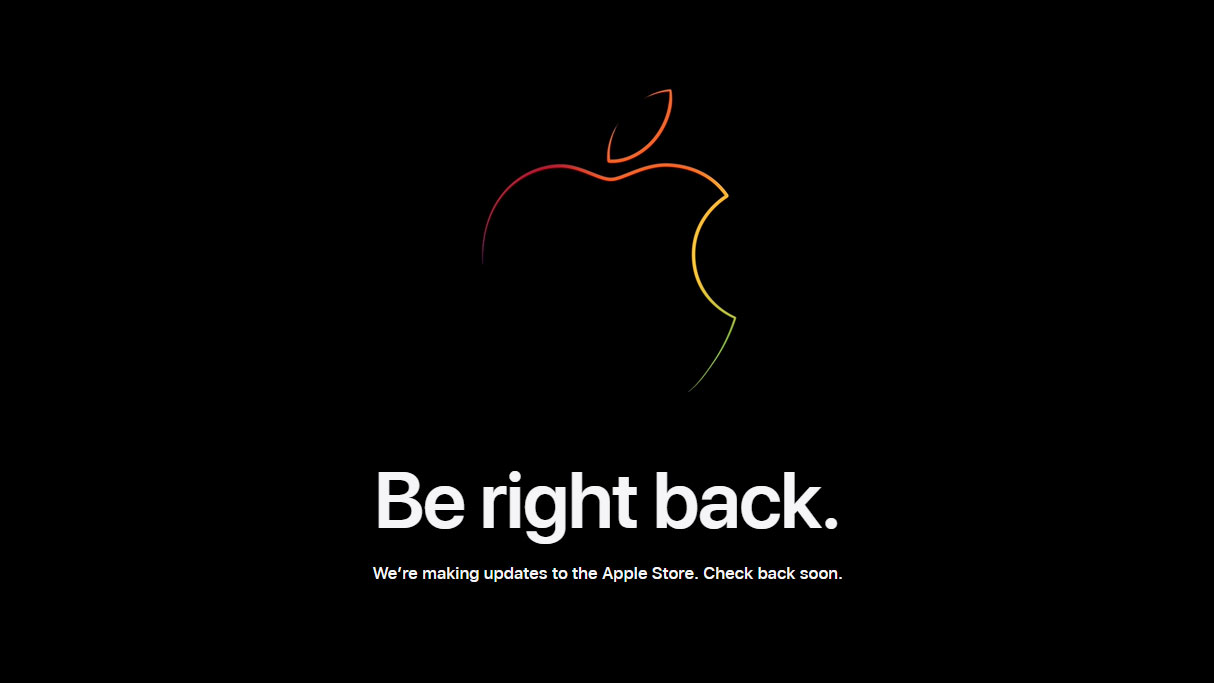 The Apple Store is still down, and we're not entirely sure why. TechRadar has asked Apple for comment on why this has happened, and we'll be updating this live blog when we hear back from the company.
What does it mean for you right now? It means you won't be able to make the most of the company's gift card offer that gives you either £80 or $100 off. 
That's only on the latest iPad Pro models, but it's an offer that'd give you extra money to buy accessories or any other Apple gadgets. This offer runs through until Cyber Monday, so hopefully you can make use of it at a later date.
2021-11-26T07:00:54.706Z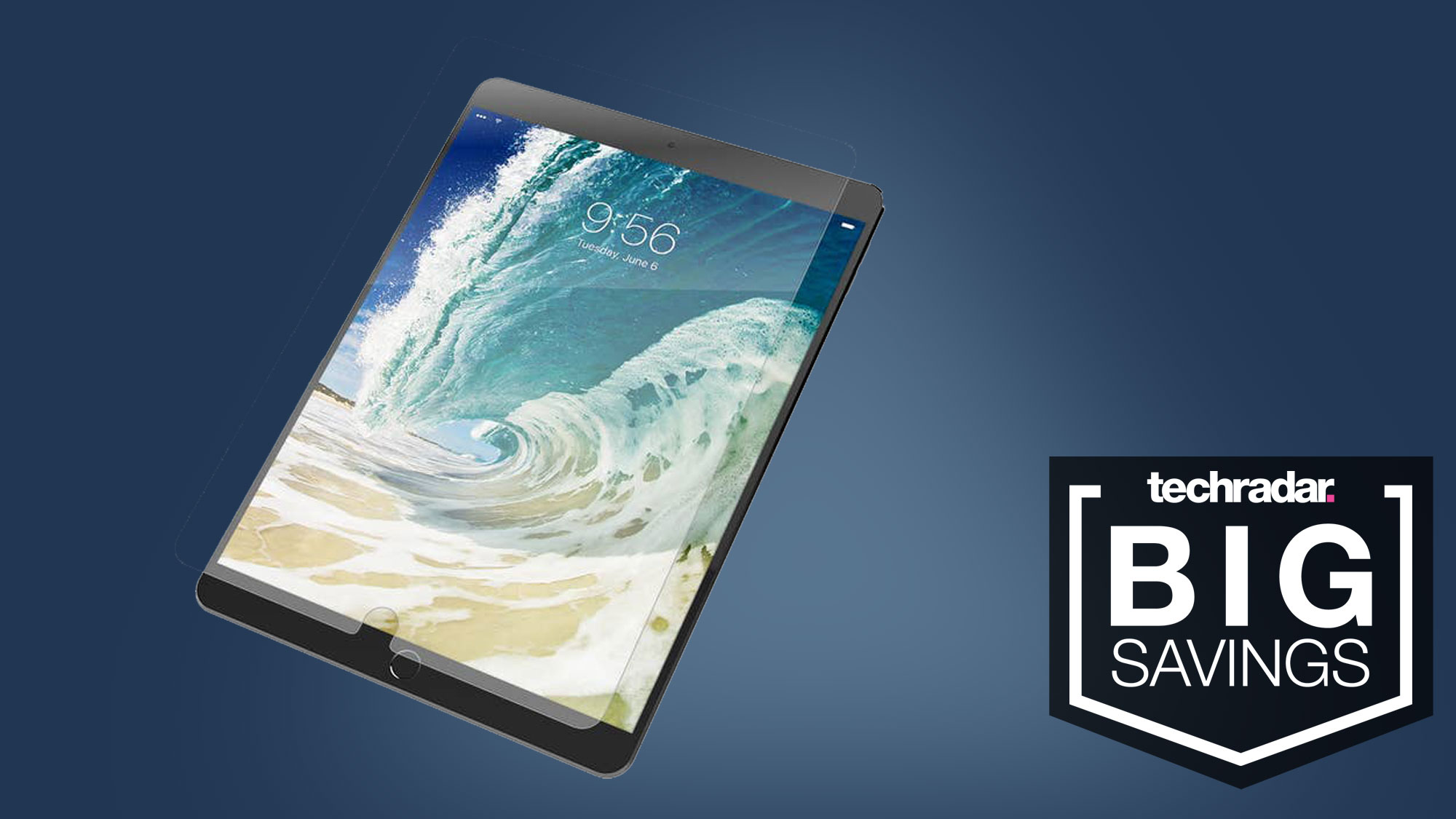 One of the things that you'll need to do – especially if you won't / can't invest in a keyboard cover for your iPad – and this Zagg protective screen will allow you to make sure that pretty iPad screen doesn't get scratched and broken.
The Zagg InvisibleShield Glass Plus is designed to feel like the iPad screen, and it's down to just $19.99 – which is pretty impressive, when it was $54.99 not that long ago.
In the UK you can get it for £20.10, again laughing in the face of those paying in £££s, but it's only a £10 saving. Definitely worth thinking about when you're spending hundreds on a top-end tablet.
2021-11-26T06:33:07.733Z
What about if you wanted to buy an iPad directly from Apple? What then? Well, you'd need to wait at the moment, as the Apple Store is inexplicably down.
(If it came back up with Tim Cook just riding around in an Apple Car, and no explanation, that would be the biggest flex).
But if you do buy an iPad Pro 11 or iPad Pro 12.9, you'll get yourself a $100 / £80 gift card to spend at Apple, which is most of the way to a pair of AirPods or a fancy case.
2021-11-26T06:21:33.932Z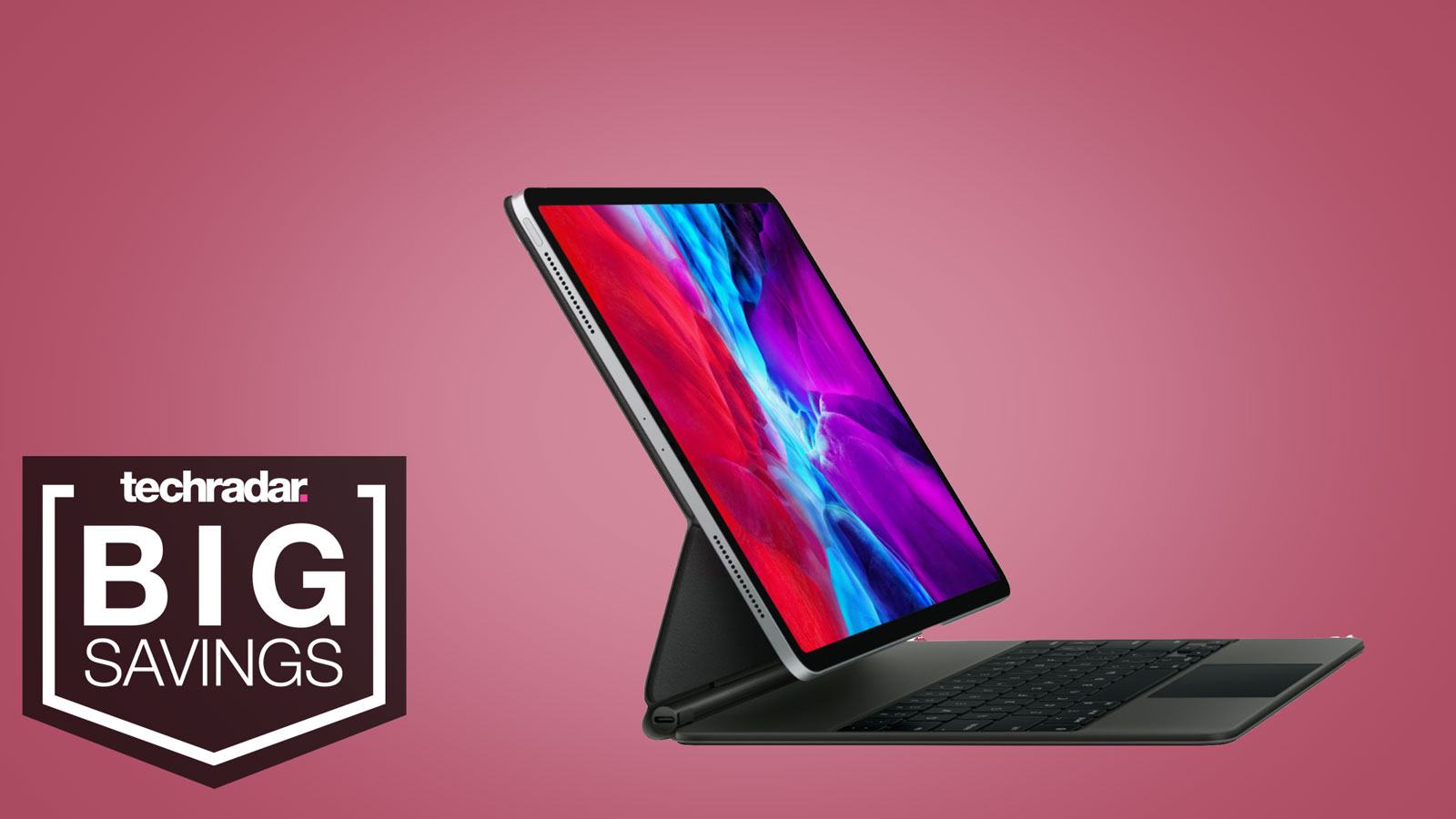 Right – let's fill you in on another iPad that we've been checking out – and this is one that I really would recommend if you can afford it.
The iPad Pro 12.9 is a superb tablet, with our review showing just how versatile and powerful it can be – it can handle any task you throw at it, and the screen uses the new mini LED (or Liquid Retina XDR, if you give it Apple's fancy name) to look great.
But honestly, having a 13-inch screen in your bag is excellent – I loved it and you should too. For $999 for the 128GB version in the US, it's not the worst price in the world, given it was $1,099 to start.
In the UK the same model is £949, so you don't save as much (it started at £999), but it's still decent to see savings on this top model.
2021-11-26T06:09:04.618Z
Right, time for another piece of accessory chat – this time, it's the Apple Magic Keyboard, which I see as something of a conundrum.
It's genuinely game-changing on the iPad Pro or the iPad Air – it allows you to make the iPad far more like a computer, with the large track pad and very clickable keys. I loved it… but it costs $349.
NOT ANY LONGER! In the US, Best Buy has it for $199. While that's still a huge extra amount, it's a lot less, and if you're going to invest in the iPad experience, I say it's worth it.
2021-11-26T05:56:48.873Z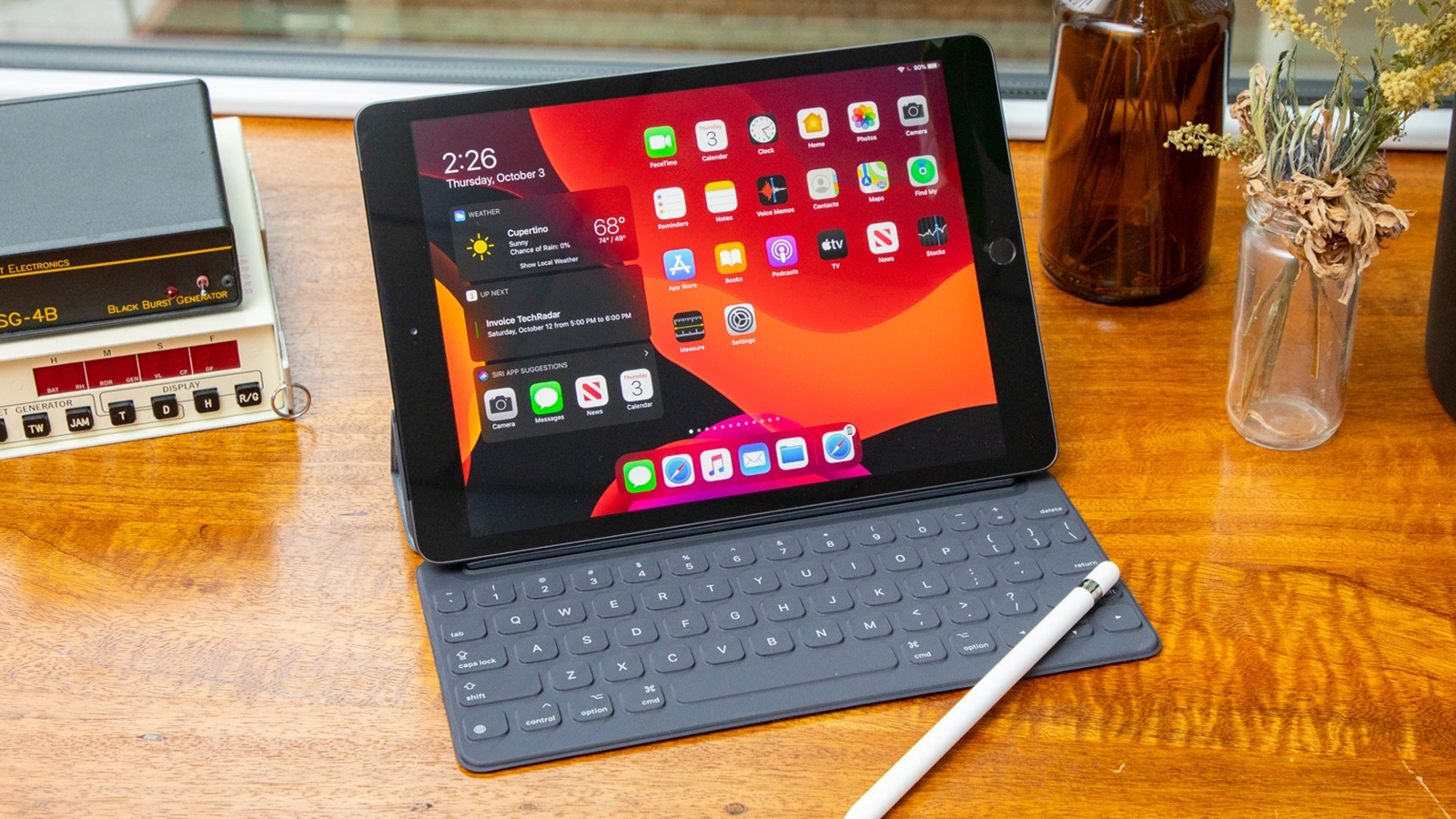 Look, we want to foster a good relationship here, between you and I. You need to trust me that I'm looking for the good deals for you – and with that in mind, I need to tell you that I'm not currently seeing any good iPad deals for the iPad 2021, the 10.2-inch model from this year.
I think that's got the potential to really rocket this year, even though it's new – but then again, it keeps going out of stock with key retailers like Amazon, which hints that maybe there aren't enough to stay around.
If you want it in the US, you can get the 64GB version for $329, and in the UK you're looking at £319 for the same device… again, that's not great on the ol' exchange rate.
2021-11-26T05:48:15.527Z
If you're in the UK or US and want to take our (excellent) recommendation for the best iPad deal, you'll want to invest in an Apple Pencil.
Both of these iPads have high-quality touchscreens that mean the addition of Apple's stylus dramatically enhances their usefulness. I still don't love scrawling on a piece of glass – I wish it felt more like paper – but there's no doubting having one of these is a real win – especially when the pen sticks magnetically to the side of the tablet.
With that in mind, the Apple Pencil 2 (with said magnets in it) costs just $99 at Amazon in the US, and £99 in the UK… again with Amazon, the brand that clearly doesn't give a hoot about exchange rates.
2021-11-26T05:42:36.528Z
Welcome to our iPad Black Friday deals live blog – we've got our main page that's rounding up all the deals, but there's going to be so much shifting in terms of prices today that we're not sure it can catch up – so live blogging makes much more sense.
We're going to be looking out for the best deals on the iPad units, obviously, but there's a world of stands, cases and Pencils to talk about too – stick around and we'll give you all you need to know.
Let's start here: the current best iPad deal in the US is the iPad Air 2020, which is down to $539, and in the UK it's the iPad Pro 11 (from 2021) that costs just £699 in this year's Black Friday sales.