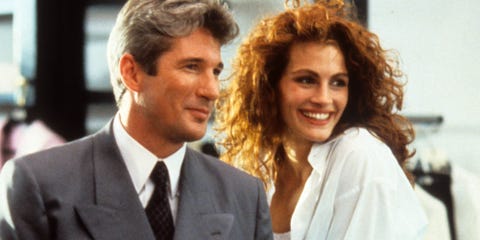 GettyGetty Images
Whether they've made us laugh, swoon, or reminisce, all these celebrities have one thing in common: They experimented with red hair. Here, a look back at the most striking reds throughout the decades.
View Gallery

54 Photos


1 of 54
Debra Messing
Debra Messing may be a natural blonde, but she'll always be our favorite sitcom ginger.
2 of 54
Keke Palmer
Keke Palmer takes braids to a new level with a burgundy-red, high-crown bun and ponytail.
3 of 54
Madelaine Petsch
Riverdale's resident redhead is very proud of her cherry locks and even recorded a funny PSA in support of all redheads.
5 of 54
Bella Thorne
The former Disney channel star's neon red has an edgy vibe.
6 of 54
Rihanna
Our forever hair crush Rihanna wore her dark auburn in long, loose waves under a Dior beret.
7 of 54
Kate Mara
House of Cards actress Kate Mara has one of the best bright and beachy reds to date.
8 of 54
Christina Hendricks
Though she plays a '60s redhead on television, Christina Hendricks' iconic color transcends decades.
9 of 54
Lana Del Rey
This redheaded crooner makes us swoon thanks to her haunting voice and retro waves.
10 of 54
Emma Stone
Emma Stone has played with almost every shade on the spectrum. The best, however, is her signature red.
11 of 54
Jessica Chastain
The two-time Oscar nominee wears her soft red with an old-Hollywood elegance.
12 of 54
Cynthia Nixon
The Sex and the City alum has owned every shade from blush to rust to deep maroon.
13 of 54
Rihanna
Leave it to Rihanna to pull off the brightest shade of them all.
14 of 54
Amy Adams
American Hustle's Amy Adams matches her red lip to her curls.
15 of 54
Isla Fisher
The adorable Australian-born actress keeps her hair glossy in a perfect shade of copper.
16 of 54
Florence Welch
Florence Welch stole music and fashion hearts alike with her stunning voice and crimson hair.
17 of 54
Tilda Swinton
Tilda Swinton set off her otherworldly beauty with an electric crimson.
18 of 54
Lily Cole
When she first stepped onto the runway, Lily Cole started a redhead revolution.
19 of 54
Kirsten Dunst
Dunst replaced her blonde hair for a cinnamon shade while promoting Marie Antoinette, and in turn became queen of Cannes.
20 of 54
Lindsay Lohan
Between Parent Trap and Mean Girls, Lindsay stole our hearts with her vixen red.
21 of 54
Tyra Banks
Proof that there's no hair look Tyra cannot wear: this super curly red moment from 2004.
22 of 54
Lil Kim
This is how you accept a Grammy award.
23 of 54
Missy Elliott
Missy at the Billboard Awards in 2001.
24 of 54
Gillian Anderson
Anderson was born blonde, but switched to a rosy red color for her famous role as Scully on The X-Files.
25 of 54
Kate Winslet
We'll never let go of the amber ringlets Kate Winslet had during Titanic.
26 of 54
Janet Janet
Velvet Rope red, never forget.
27 of 54
Geri Halliwell
Geri Halliwell popped onto the scene (appropriately) as Ginger Spice of the Spice Girls, with her trademark cherry-red hair streaked with blonde highlights.
28 of 54
Tori Amos
Tori's dramatic and moving songs were matched by her equally dramatic hair.
29 of 54
Claire Danes
The 15-year-old actress, as Angela Chase in My So-Called Life, played perhaps the most perfect role to sum up the grunge-filled decade. Her dye job shocked her on-screen mother—and ours.
30 of 54
Karen Elson
Though she's experimented with varying tones, Karen Elson hit it out of the beauty ballpark with this cool crimson.
Advertisement – Continue Reading Below
This content is created and maintained by a third party, and imported onto this page to help users provide their email addresses. You may be able to find more information about this and similar content at piano.io