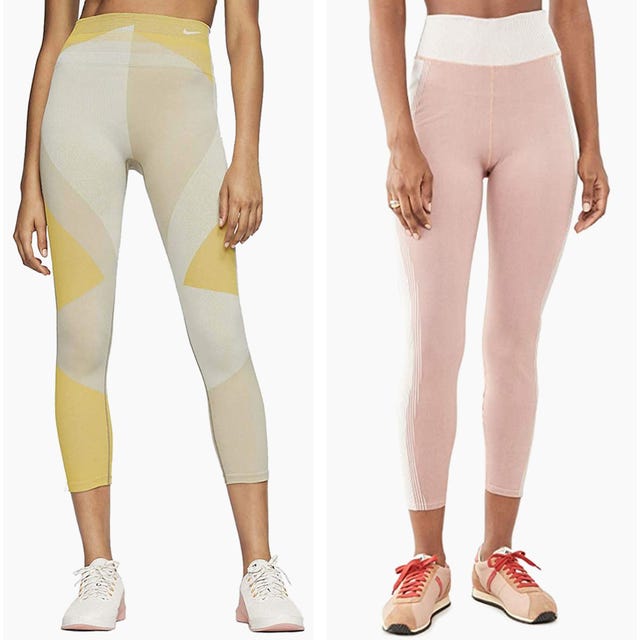 Yousra Attia
If the past year or so has taught us anything, athleisure is more than just a state of mind. It's a lifestyle. As I put my recurring clothing favorites on the bench during the early stages of quarantine, I brought a slew of new clothing players to my roster. Soon enough, I was on a mission to find the perfect sweatshirt, sweatpants, and most important of them all: leggings.
When it comes to leggings, I tend to be a bit of a serial dater. My bank account may detest me, but when it comes to comfort, I'll buy and try anything. The right pair of leggings compliments you at all hours of the day, can hold up during the toughest of Netflix binge-watches workouts, and are so comfortable, the thought of putting on real pants again makes you queasy. My quest for the perfect pair hasn't been in vain, because I found the 18 best pairs of leggings sold on Amazon. So whether you need a high-waist pair or ones that don't have seams, I got just the pair for you. Shop our edit of the best leggings ahead.
Advertisement – Continue Reading Below
1
Best Criss Cross Leggings
Cross Waist Leggings
If you like your leggings to have extra coverage, opt for a criss-cross pair. The wide, backside waistband holds everything in while flattering your figure. 
2
Best Moisture-Wicking Leggings
Sculpt Lux High Rise 7/8 Tight Fit Training Pants
You can do the hardest of workouts in these things, and they still wouldn't bear any sweat stains.
3
Best Color Options
High Waisted Yoga Pants 7/8 Length Leggings with Pockets
Colorfulkoala
amazon.com
$25.00
Detest laundry? These come in 27 other gorgeous shades, so you snag a pair for every day of the week. 
4
Best Shiny Leggings
Shiny Nylon Tricot Leggings
American Apparel
amazon.com
A trusty pair of black leggings, add a little bit of sparkle and you have a match made in legging heaven.  
5
Best Color Blocking Leggings
Studiotech High Waist Color Block Yoga Legging
Core 10
amazon.com
$39.90
These squat-approved leggings hug in all the right places and feature a drop-in back pocket fit for your phone. 
6
Best for Tummy Control
High Waisted Leggings for Women
Shapermint creates shapewear that accentuates the best parts of your body without sacrificing comfort. The best part of all? Sizing goes up to 4X.  
7
Best Ribbed Leggings
Contour Rib Seamless Leggings
Good American Essentials
amazon.com
$39.50
What if I told you this came with a matching top, thus making this automatically cuter? 
8
Best Lifting Leggings
Slimming Booty Leggings
The hype on TikTok for these butt-lifting leggings is very much real. Need further proof? Read through the over 45,000 five-star reviews. 
9
Best Designed Leggings
High Waist Moto Leggings
Alo Yoga
amazon.com
$88.49
Loved by A-listers everywhere, Alo Yoga's moto leggings are the perfect mix of sporty and cool. Thanks to its contouring mixed matte and shine fabric, this pair is game for whatever activity you see fit. 
10
Best Leggings If You're On the Taller Side
Extra Tall Women's 34″ High Waisted Barre Leggings
Yogipace
amazon.com
$31.99
Available in three different inseam lengths, you (and your long legs) can relish in the beauty of owning leggings that go past your calves.
11
Best Seamless Leggings
Seamless High-Waisted Legging
If you want a streamlined fit, this compression pair boasts all the same features as your go-to pair of leggings without the worries of those pesky seams. 
12
Best Faux-Leather Leggings
Faux Leather Moto Leggings
These are so sleek (and flattering) you'll wear them everywhere and anywhere.  
13
Best Mid-Rise Leggings
Performance Mid-Rise Full-Length Active Legging
Amazon Essentials
amazon.com
$14.41
The sweat-wicking, breathable fabric will keep you feeling fresh all day long. Reviewers say they run a little large, so be sure to size down. 
14
Best Maternity Leggings
Essential Stretch Leggings
Motherhood Maternity
amazon.com
Thanks to its expandable waistband, these leggings are ideal for any trimester. 
15
Best Capri Leggings
High-Waisted Capri Leggings
Made from the softest material imaginable, this Beyond Yoga legging will feel like you're wearing nothing.
16
Best Two-Pack Deal
2 Pack High Waist Yoga Pants
Fengbay
amazon.com
$28.98
Two pairs for under $30 that aren't see-through? No, you aren't dreaming. 
17
Best Denim Leggings
Totally Shaping Pull On Skinny Jeans, Harmony
Signature by Levi Strauss & Co. Gold Label
amazon.com
$24.99
All the features of your favorite pair of leggings, but instead, they come in denim—all hail twenty-first-century fashion. 
18
Best Leggings for Running
Pace Rival Stretchy Cropped Running Leggings
Lululemon Athletica
amazon.com
$128.00
With hidden pockets all over and an adjustable drawstring at the waist, running that extra mile in these won't be the bane of your existence. 
This content is created and maintained by a third party, and imported onto this page to help users provide their email addresses. You may be able to find more information about this and similar content at piano.io
Advertisement – Continue Reading Below